Monday, December 31, 2012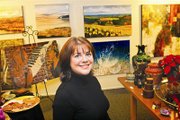 INDEPENDENCE -- Sally Penna had hoped the shipment for her import business would have arrived from Myanmar before Christmas. She was waiting on, among other things, bronze-cast gongs and sculptures and exquisite lacquerware that Southeast Asia is renowned for.
"It's difficult doing business (in Myanmar) right now because they don't really have a banking system," Penna said, noting the nation is essentially cash based. "I have a woman who helps with the buying who had to go to Thailand to draw cash."
It will get here, Penna assured. In the meantime, patrons of Angeney Kime Art and Penna's Rocksalt Imports will still have their pick of sculptures, crafts and fine art to start 2013.
Penna of Monmouth and husband and wife artists John Kime and Tamara Angeney Kime of Independence opened the joint venture in early December.
The Kimes and Penna were vendors at Merchant Works Public Market in downtown Monmouth. After the closure of that business in May, the trio mulled opening a storefront of their own, Penna said.
During the last several months, they've transformed a small office complex that Penna and her husband, Joe, own into a gallery.
The Kimes are lifelong artists who do expressionist and impressionist paintings. Their work can be seen in galleries from Minneapolis to Los Angeles. They also have a background in marketing artists and handling sales and distribution.
Since relocating to Independence six years ago, they've primarily worked out of a home studio.
"We've been selling art out of state and doing festivals," Angeney Kime said. "But we really did need a location to sell from and we thought it was a good idea to have a gallery."
Penna, meanwhile, started Rocksalt Imports in 1999 as a hobby with her sister as an outgrowth of their penchant for world travel. Penna works with and buys directly through artisans in Thailand, Vietnam, Costa Rica and other exotic locales.
"I'm not fair trading, I'm going directly to the people," she said. "We negotiate, like most everybody in the world does."
From Indonesia, for example, she's brought in shipments of beaded baskets made by locals from in and around Bali. Handcarved masks from Brazil were purchased by canoe from floating vendors on the Amazon River.
Ultimately, Penna said she hopes to create photograph and video exhibits at the shop showing how some of the crafts are made.
"It's not just the items, but the story behind them," she said.
Angeney Kime will host personal and small-group art classes at the studio inside her gallery. A goal is to also start displaying the work of other artists for a week or month at a time, culminating with a show, she said.
"Most people who've come in have been local, though we did have a guy here from (Reno, Nev.) the other day," Penna said. "We had some good customers at Merchant Works who have supported us and that's been rewarding."
Check It Out
What:
Angeney Kime Art and Rocksalt Imports.
Where:
769 N. Main St., Independence.
Hours:
10:30 a.m. to 5:30 p.m. Tuesday through Saturday.
For more information about Rocksalt Imports:
503-551-6982 or on Facebook.
For more information about Angeney Kime Art:
503-838-2701 or www.kimefineart.com.