Monday, December 31, 2012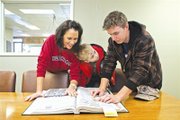 DALLAS -- U.S. Marine Lance Cpl. Jorel Blocher received an unexpected "care package" from a friend in Dallas in March 2009.
A combat engineer, Blocher was beginning his first tour in Afghanistan's Helmand Province. Items in the package were wrapped in pages of the March 18, 2009, Itemizer-Observer.
His squadron's equipment hadn't arrived yet, so Blocher had time on his hands. A lifelong Dallas resident, he decided to smooth out the pages and read about his hometown.
"I read that paper front to back," Blocher said.
He was shocked to learn the Weyerhaeuser mill was closing, but proud to find out about the success of the "Mr. Dallas" fundraising competition and a Falls City bakery, The Bread Board. The 21-year-old decided to write a letter to the editor.
It was published on April 22, 2009, and concluded: "It's great to know that my hometown, Dallas, Ore., is still doing great things. That is something always worth fighting for."
Perrydale resident Lisa Mitchell read that letter and was inspired to write a response. Her letter was published the next week. It ended with: "We are proud of you, Jorel Blocher. May God bless you and safely return you home."
Time passed and Mitchell forgot about writing the letter -- but Blocher didn't.
His parents kept both issues with the letters. When he returned home later that year, he clipped Mitchell's out. He placed protective tape over it and tucked it in the inside front flap of his uniform hat, or cover. It stayed there for three years and another Afghanistan tour in 2011.
"On the days that I would ask myself, `What am I doing?' or 'Why am I doing this?', I would pull off my cover and look at this letter," he said. "That would always remind me of why I'm here and why I'm doing this."
He wanted to meet Mitchell, to thank her for writing the letter to the editor -- someday.
A few weeks ago Mitchell, a Perrydale School Board member, received a strange message from the school. A young man had stopped into the office looking for her, saying something about a letter she wrote. He left his phone number. Curious, Mitchell called him.
It was Blocher. He had Googled her and found her connection to the school. She didn't recall writing the letter at first.
"I didn't remember all of it, so when he read it to me over the phone I started crying," she said. "It was a pretty amazing feeling to know that I made an impression on somebody's life."
Mitchell said she wrote the letter to recognize those serving oversees. She didn't think it would have a bigger impact.
"I thought he's over in Afghanistan and it just made me think of all the guys that were over there, homesick and in a really dangerous place," she said.
Wanting to thank her in person, Blocher asked to meet her. They arranged to meet at her home on Dec. 23.
Now 24 and no longer on active duty, Blocher said he didn't know what to expect, but rehearsed what he wanted to say anyway.
Greeted by Mitchell's whole family, that didn't quite go as planned: "I was speechless pretty much," he said.
Mitchell said she still can't believe her letter meant so much to Blocher.
"It does mean a lot to me that he looked for me and we met up," she said. "That whole day after I got the phone call, I kept crying, but it was good tears. I was pretty amazed."
Mitchell and Blocher are already talking about future get-togethers.
"Fate brought us together," Mitchell said.
"She was an inspiration in my time of service," Blocher added. "Maybe she'll be an inspiration later in my life.
"I'm thankful for people like her."