Tuesday, February 7, 2012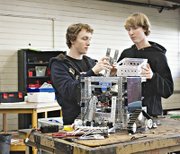 DALLAS -- The Dallas High School robotics team, the CyberDrakes, is looking to make a comeback this year.
After competing in the state tournament in 2010, its first year, the team didn't place or receive a state-qualifying award at the 2011 FIRST Tech Challenge qualifying tournament.
The CyberDrakes -- consisting of seniors Joe Hill, Alex Long and junior Austin Gish -- with their robot "Richard Nixon" would like to be among the top contenders at this year's 24-team qualifying tournament Saturday at Oregon State University.
"I'm really excited to go and compete with this robot," Hill said.
Last week, the team was finishing its programming and turning its attention to learning to maneuver the robot on the practice course using remote controllers.
The first test run revealed a few small issues requiring some minor tweaks, but otherwise the team was pleased with its design.
"Just small adjustments," Hill said. "They won't take very long. I think we will do well."
"This is the first time in awhile that we've had time to train before the competition," Long added. "Last year we finished up programming on competition day."
Hill said the last-minute programming was due to design changes on the robot the team made just before going to the competition.
Hill and Long have been team members since the first year and said, good or bad, the experiences they've had have helped them prepare for this weekend's competition.
"We've had a couple of years to learn things that work and things that don't work," Long said.
The 2012 FTC tournament "Bowled Over" has two teams forming an alliance to outscore their opponents. Teams were given competition rules and requirements and robot kits at the beginning of the year. They were set free to design a robot to accomplish specific tasks. This year those include collecting racquet balls, placing them in small plastic crates, and finally stacking the crates to score points -- the higher, the better.
As the name implies, bowling balls are part of the competition and robots with enough heft to push them can score even more points.
The Dallas team focused mostly on collecting racquet balls, sorting them -- a few balls with magnets inside are worth more points if the robots can find them and place them in the correct goal -- and putting them where they need to go, rather than pushing around bowling balls.
"It's not about how many things you can do," said club adviser and science teacher Lee Jones, explaining the team's strategy. "It's about how well you do the things you choose to do."
Hill said if the CyberDrakes are paired with a team that has a robot that can push a bowling bowl around, they could be tough to beat.
Team members said they are hoping for a chance to return to the state tournament, scheduled Feb. 26 at South Meadows Middle School in Hillsboro.
"It would be good to do as well as we did the first year," Hill said.