Wednesday, February 15, 2012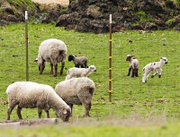 PSWCD
native plant
sale set for Friday
Polk Soil and Water Conservation District will hold its annual Oregon native plant sale Friday.
The sale, open to the public, takes place at White's Hauling, 550 Morrow Road, Independence.
Numerous species of native trees, shrubs and assorted plants will be offered while supplies last.
For more information: 503-623-9680.
Post Valentine's
dance scheduled
A post-Valentine's Day Sweethearts Dance for anyone 14 years of age and older takes place Friday from 8:30 to 11:30 p.m. at The Church of Jesus Christ of Latter-day Saints, 3154 Eola Drive NW in West Salem.
Prior to the dance, the regularly scheduled weekly ballroom dance lessons will be held from 6 to 7 p.m. and 7:30 to 8:30 p.m. The dance then begins at 8:30 p.m.
Dress code is modest dresses for the ladies and slacks and a nice shirt for men.
RSVP is requested. To RSVP or for more information: Rish Reinen, 503-798-0927; Miki Reinen, 503-302-4515; e-mail to sirrrish@msn.com.
Local authors set
to address PCHS
Two local authors will be featured at the monthly history program of the Polk County Historical Society on Saturday.
Speakers are Lynn Mack, author of the recently-published "West Salem, Oregon," and Monmouth historian Scott McArthur. McArthur's topic, "Fraternalism in Pioneer Polk County; Why Great-granddad went to lodge," will tie into his latest book on the history of the Masonic Lodge in Independence.
The program starts at 1:30 p.m. at the Polk County Museum, 560 S. Pacific Highway (99W). The normal museum admission is waived the afternoon of the presentation. Refreshments will be served.
For more information: 503-623-6251.
Hula hoop seminar
for youths slated
Polk County OSU Extension Service is offering a hula hoop making workshop Monday from 10 to 11:30 a.m. in the 4-H Building of the Polk County Fairgrounds and Event Center in Rickreall.
The class is open to youths in grades 4-12. Participants will learn how to use hula hoops, some tricks and be able to take home a hoop they have made themselves.
Youths do not need be enrolled in 4-H to participate.
Class size is limited to 20 participants. Cost is $2. Preregistration by Thursday is required.
For more information: 503-623-8395; e-mail to judi.peters@oregonstate.edu.
Church schedules
traditional supper
St. Thomas Episcopal Church will host its traditional Shrove Tuesday Pancake Supper on Tuesday from 5 to 6:30 p.m. at the church, 1486 SW Levens St., Dallas.
Pancakes (all you can eat), ham, scrambled eggs and homemade applesauce will be prepared and served by the men of St. Thomas.
The event is free, but donations will be accepted to support church youth programs.
For more information: Tom Green, 503-623-9726.
'Efficient Cook'
seminar on tap
Want an alternative to takeout or drive-thru for dinner?
Polk County Oregon State University Extension is offering a free cooking class teaching people how to save time while still making healthy meals.
"The Efficient Cook" will teach participants to plan meals that conserve time, money and energy while enhancing health.
The class will be offered in Dallas on Wednesday from 9:30 to 11 a.m. in Room 108 of The Academy Building, 182 SW Academy St.
For more information, directions or to register for the class: Debra Minar Driscoll, 503-602-2651; e-mail to debra.driscoll@oregonstate.edu.
Fundraiser on tap
for Central FFA
Tickets are now on sale and donations are being accepted for the Central FFA Alumni benefit dinner and auction scheduled Feb. 25 at Central High School.
The event includes a silent auction beginning at 5 p.m., dinner at 5:30 p.m. and an oral auction starting at 7 p.m.
Tickets are $12 for adults, $6 for children ages 6-12, and those under 6 are free. Those who sign up for a bidder number are eligible for a chance to win a new gas barbecue.
Proceeds from the event benefit scholarships for FFA students and help sponsor other FFA activities and projects.
For more information or to donate items for the auction: Francis Buckovic, 503-838-2035.
Medical mission
is subject of talk
The Falls City Garden Club is hosting a presentation on Feb. 23 featuring pictures and insights about a medical missionary experience in Uganda, Africa.
Joanna Picchi, family nurse practitioner at Luckiamute Clinic in Falls City, will share her experiences from her October missionary work with Medical Teams International in the UNHCR Nakivale Refugee Settlement. The presentation begins at 7 p.m. in the sanctuary of Mountain Gospel Fellowship Church, 257 N. Main St., Falls City.
For more information: Nigel Page, 503-787-4512; Gladys Norman, 503-787-6105.