Wednesday, February 15, 2012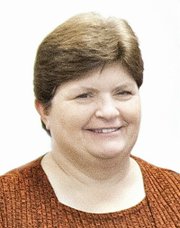 INDEPENDENCE -- Marilyn Morton will step down as manager of the Monmouth-Independence Chamber of Commerce next month.
Morton gave formal notice last week to the chamber's executive board of directors that she has accepted a job as account manager for the Monmouth-Independence Network (MINET), the two towns' broadband utility.
"I feel sad about leaving, I've really enjoyed this and am still going to have a connection to it," Morton said. "But I also feel excited about a new adventure."
Morton's last day with the chamber is March 22.
"Losing her is a blow," said Terri Gregory, a chamber board member. "She's been a shot in the arm for us and has been nothing but good, but we all know change is inevitable. Everybody wishes her well."
Morton was hired by the chamber during the summer of 2010, after the nonprofit had been recovering from budget issues. It had also been operating without a manager for several months.
Since Morton's arrival, the chamber's membership grew from about 100 to the current 174. She assembled a popular chamber newsletter and helped in the planning and oversight of a forthcoming revamped chamber website, a local tourism guide and shared advertising for businesses through Independence Cinema.
Bill Foster, M-I Chamber president, said the organization has verbal and written interest in the manager position, which may become a full-time role, and will begin interviews in early March.
Foster said the chamber has momentum now and it wants to keep that going.
"We want to get the right person in there as soon as we can," Foster said. "We're not putting an end date on this, but we do want the hiring to be a timely process."
Foster said Morton's leaving shouldn't affect work on the website or visitor's guide. The chamber board members will assume some of Morton's leadership roles after she leaves until a new manager is found.
Morton, who is also an Independence City Councilor, said she was happy with her job but felt like the offer from MINET was "doing what's best for my family."
She did note that she's asked to be part of the chamber board when a seat opens and will volunteer for the organization.
At MINET, Morton will step into a recently empty position. MINET spokesman Scott Fowler said her focus will be community integration and local business support.
"Marilyn has a great reputation in business and civic circles," Fowler said. "Hiring her was a no-brainer."