Wednesday, February 29, 2012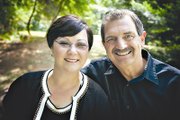 DALLAS -- Home Comfort owner Joe Flande said he was taught at an early age to not spend money he didn't have and a man is only as good as his word.
He based his business philosophy on that age-old wisdom.
Perhaps, not surprisingly, he has been successful enough to expand the heating and air conditioning business and give back to the community.
"My wife and I, if we had any regrets, I suppose it would be that I can't give any more," Flande said.
Flande, and his wife, Vicki, bought Home Comfort in 1996. Joe had worked for the former owner for several years before making the decision to purchase the business.
"I had always wanted to own my own business," Flande said. "My wife and I discussed it and decided it was a good opportunity.
"When I worked there, I knew what all the positive and negatives were, what changes that needed to be made, and what could be kept. I just knew I could do it."
Flande has focused his attention on making his customers 100 percent happy, even working on Christmas if needed.
"He has done that from day one," Vicki Flande said. "He doesn't like people to be cold on Christmas, so he goes out."
That consistent care for customers earned Home Comfort recognition as Business of the Year at the 55th annual Dallas Community Awards.
"A concern for reputation is a sign of a positive business owner," said award presenter Chelsea Pope. "This business excels in that ... making sure that they always do great work and have excellent customer service."
Flande said he was surprised and grateful for the recognition and said he wished that he thanked more people upon receiving it, especially his employees, who he calls his "team."
"I'm extremely happy to be part of this community and I'm extremely happy right now," Flande said Friday at the ceremony. "I will do my best to give to the community as it gives to me."
Now his "team" has grown to 12 employees, including his son, Ben, who is the service manager.
Though owning his own business can be nerve-racking at times, Flande said he hasn't regretted setting up shop in Dallas.
"I love the small community and that it's close-knit," he said. "I see customers everyday when I go to the grocery store, gas station or to the movies. Your customers become your friends."