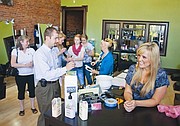 DALLAS -- Flash mobs -- a group of people who gather at a specific place at a specific time to "spontaneously" break out in song or dance and then disappear again -- are widely known.
But have you heard of a "cash mob?"
It's the same concept as a flash mob, except the group gathers not to put on a show, but spend money at a local business.
Chelsea Pope, the Dallas Area Chamber of Commerce's executive director, said cash mobs began as an East Coast and Midwest phenomenon. She said she first found out about them when a chamber board member brought her an article about cash mobs in other communities. Thinking it was a novel way to support local business, Pope decided to organize Dallas' first cash mob in May.
Cash mobbers gather at the chamber's office the evening of the event with $10 in hand. Participants don't know where they are going until that evening. People joining the cash mob don't have to buy anything at the business that is mobbed, but they do commit to leaving their $10 with the store.
"Part of this is to help support local business in any way that we can," said Ryan Friesner, a chamber ambassador who leads the cash mobs. "This is just one way to support businesses and have fun doing it."
Heartstrings Florist & Artisans hosted the first cash mob, which attracted 13 people. The "mobbers" then went to a "post-mob celebration" at Roundup Pub.
Pope said cash mobs not only offer financial support to businesses, but they also raise awareness about what is available in town.
"About half of the people in the (first) cash mob had never been to either establishment," Pope said. "Linda (Heartstrings owner Linda Taylor) called later and said that she had had two repeat customers from the cash mob."
On June 27, the chamber held a second cash mob. Envy Spa Salon and Washington St. Steakhouse and Pub were the lucky "victims" this time.
Grace Burch, the owner of Angor Realty, said she had never heard of a cash mob before, but liked the concept so much she let her employees leave work an hour early to participate.
"It's a great idea -- something different," she said. "It's a nice way to visit businesses that you haven't been to before."
Pope said the first two cash mobs have been a success and she's planning more in the fall.
Tina Evans, owner of Envy Spa Salon, said the cash mobs are just what the Dallas business community needs.
"I think it's excellent," she said. "Our town and small businesses need all the support they can get now."
For more information about cash mobs: 503-623-2564.