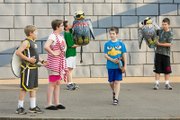 MONMOUTH -- One of Wolfgang Amadeus Mozart's last and most popular works, "The Magic Flute," is an ambitious two-act opera that challenges its actors with ballads and spoken dialogue and a running time of more than three hours.
It's also perfect fodder for a children's play.
"There's a damsel in distress, monsters, a hero -- it's got a little of everything," said Rob Harriman of Monmouth.
Harriman is a coordinator for the Mid-Valley Community Children's Theater, which is bringing a kid-friendly adaptation of the opera to life on Saturday -- complete with custom sets and costumes -- to Rice Auditorium's outdoor stage on the Western Oregon University campus.
Rob Harriman
There won't be any music in this version, but audiences will still be impressed, said Harriman, who's co-directing the play.
"The kids have learned their lines a lot faster than I ever could have," he said. "And they're showing confidence, knowing they might have to stand in front of a hundred or more people."
"The Magic Flute" will include a cast and crew of about 30 kids, ages 6 through 12, from Monmouth, Independence and the surrounding areas, and almost a dozen parent volunteers.
It marks an evolution for a project that Harriman and his wife, Barbara, embarked on last year when they revived a summer theater program for youths founded in the 1970s by the late Don Weiss, a Western Oregon University professor of humanities.
"Getting it up and running was rocky," Harriman said, noting last-minute rehearsals and having to "beg and borrow" for costumes and props.
"We thought about not doing it again ... but the kids all had such a blast and when the show was over, they all started asking `what will we do next summer?'" he said.
Harriman said he, Barbara, and co-director Lise Sherry formed a committee with interested parent volunteers who took on different production tasks and started planning several months ago.
Lise Sherry
They also received a $1,500 grant from the Polk County Cultural Coalition. They've invested that money into building their own sets, making costumes and buying scripts.
"We're being a little more ambitious and trying something along the lines of the Children's Educational Theatre in Salem," Harriman said.
Rebecca McCannell, a WOU art professor, has three children involved in the play. She's also been helping with art direction and prop making.
"My kids have always liked doing plays at school and this is a way for them to continue it during the summer," McCannell said. "It's a more structured activity for them than just watching TV or sitting in front of a computer screen."
Harriman said he believes there's enough momentum and support to make MVCCT a summer tradition; there are tentative plans for a kids version of "Camelot" next year.
"I would like to see kids take away a love for the performing arts and learn responsibility and accountability when you're in a show," he said. "But the really cool thing is kids coming out for rehearsal, playing during a nice summer evening and having fun."
Check It Out
What:
The Mid-Valley Community Children's Theater presents "The Magic Flute," written by Steven Fogell and based on the opera by Mozart.
When:
Two free shows on Saturday. Shows are scheduled for 1 p.m. and 5:30 p.m.
Where:
In front of Rice Auditorium at Western Oregon University, 345 N. Monmouth Ave., Monmouth.
Synopsis:
Armed with his magic flute, Prince Tamino travels to the castle of the evil Sarastro to save the princess Pamina, encountering friends, monsters and muses along the way.