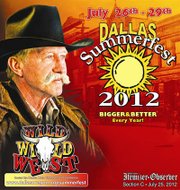 DALLAS -- Seeing 10-gallon hats, spurs and cowboy boots in every direction?
It must be Dallas Summerfest 2012.
With a theme like "Wild Wild West," you bet there are going to be cowboys and cowgirls by the hundreds converging on downtown Dallas Thursday through Sunday.
"We are just always trying to think of something people can participate in," said Chelsea Pope, the executive director of the Dallas Area Chamber of Commerce, which coordinates Summerfest. "It's way more fun to watch a parade when it's more than just the parade entries that are decorated."
In other words, parade viewers, costumes are more than welcome.
"We encourage it," Summerfest parade coordinator Bonnie Dreier said of dressing for the theme.
But the parade won't be the only time Dallas can display its cowboy nature.
The last two years, Summerfest has featured its mascot ship, a former sail boat (built by Pope's family) fashioned into a pirate ship in 2010 and a sunken "mermaid ship" in 2011.
The Summerfest theme was fashioned around it, with pirate and under-the-sea "crews," ship tours and photo opportunities.
"I needed a break from the ship for a year," Pope said, laughing.
But with as much fun as the ship was for Summerfest organizers and attendees alike, it needed to be replaced with something equally as quirky.
That's where Friday night's mustache contest comes in. Pope said when she first considered the idea, she wasn't aware that mustache and beard contests were already happening nationwide.
She learned quickly.
"It's a huge deal," she said, noting the third-annual National Beard and Moustache Championships are taking place in Las Vegas in November.
She said competitors take such contests very seriously, but Summerfest's contest will be more relaxed.
"It's meant to just be fun," Pope said. "But I've seen a couple guys who have definitely been growing out their mustaches and getting ready."
The 2012 Summerfest schedule features a few other new and improved events.
Need to cool off on what is predicted to be a pleasant Friday night? Why not soak up the Dallas Fire Department's Waterball contest. While it isn't new, the crowd favorite is returning after several years, taking the place of the hydrocart races.
Sunday's Art in the Park's leadership has changed hands, making this year's event bigger, with about 45 booths featuring the handcrafted work of artists from throughout the region.
In addition, the Sunday traditions of Breakfast in the Park and the Tom Newton Car Show kick off at 7 a.m., followed by tours of the Delbert Hunter Arboretum at 8 a.m. at Dallas City Park.
With four days packed with events, Summerfest has something for everyone -- whether it's a parade, a contest celebrating creative facial hair, a chance to see hundreds of classic cars, or sharing breakfast with family and friends on a leisurely Sunday morning.
Check It Out
What:
Dallas Summerfest 2012, "Wild Wild West."
When:
Thursday-Sunday. A schedule and information about Summerfest events is featured in the Itemizer-Observer's special Summerfest section in this week's paper.
Where:
Most events Thursday through Saturday will be downtown at the Polk County Courthouse Lawn. On Sunday, Summerfest moves to Dallas City Park for Breakfast in the Park, the Tom Newton Car Show, Art in the Park and the Delbert Hunter Arboretum tours.
For more information:
503-623-2564.