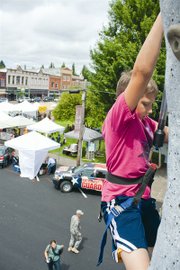 Valsetz reunion
event is Saturday
The annual reunion for all former Valsetz residents, employees, their families and friends is set for Saturday beginning at 9 a.m. at Upper Park in Falls City.
The reunion is an opportunity to come together and share friendships and stories from the former Polk County mill town.
The event is a potluck lunch and those planning to attend should bring food. Coffee and bottled water are provided.
For more information: John or Nancy Hibbs, 503-787-3114; e-mail to jhibbski@gmail.com.
Brunk House will
host open house
Polk County Historical Society will host a summer open house at the historic Brunk House on Saturday from 10 a.m. to 3 p.m.
This event will include "Artists in Action," a Salem-area group that will be painting on the grounds of the Brunk property at 5705 Salem-Dallas Highway (Highway 22W).
Tours of the 1861 classic revival house, its flower gardens, fruit trees and much more of the grounds will be available. Master Gardeners will be on hand to explain the onsite no-till garden. Refreshments will be available for purchase.
For more information: Jo Ann King, 503-838-6603; Polk County Museum, 503-623-6251.
Canine fundraiser
slated at vet clinic
Polk Veterinary Clinic is hosting a dog wash fundraiser Saturday from 1 to 4 p.m. at the clinic, 1590 E. Ellendale Ave. in Dallas.
There will be prizes, awards and refreshments. Cost is by donation with proceeds supporting Polk County Narcotics Detection K-9, Vader.
For more information: Tamela, 503-623-8318; www.polkvetclinic.com.
Valey artists will
be gallery feature
The River Gallery in Independence will host an open gallery Saturday from 6 to 8 p.m. for the new show "Life in the Willamette Valley: Form and Pattern of Existance."
This juried show displays the work of more than 30 Oregon artists and their unique view of what life in our valley means. Music for the event will be provided by Jim Hockenhull and Joe Huff, two Oregon fiddlers.
The event is free and open to the public. The show runs through Aug. 30.
For more information: Barb Meyer, 503-838-6171; e-mail to rivergallery97351@gmail.com.
DHS Class of 1956
will hold potluck
Dallas High School's Class of 1956 will hold its annual reunion potluck Sunday at Dallas City Park.
The event begins at 11 a.m. Meal time is 1 p.m.
Classmates are asked to bring a favorite dish to share, their own table service and a chair. Coffee and ice cream will be available for a donation.
For more information or to RSVP: Roberta Mehl, 503-623-4425; Dolores Friesen, 503-910-7491.
Falls City library
closed Aug. 6-9
Wagner Community Library in Falls City will be closed for maintenance beginning Monday and continuing through Aug. 9.
For more information: Holly Kraus, 503-787-3521, ext. 319; e-mail to wagner-library@ccrls.org.
TLC planning golf
tourney fundraiser
Trinity Lutheran Church is accepting team entries for its 14th annual Dallas Food Bank Golf Tournament.
The event is scheduled Aug. 11 at Dallas Golf Club.
Cost is $55 per player and includes 18 holes of golf, complimentary gifts, range balls, individual and team prizes, a 50-50 putting contest and a barbecue dinner.
Space is limited to 14 teams. Proceeds benefit the Dallas Food Bank.
Team entries can be mailed to TLC, 320 SE Fir Villa Road, Dallas, OR 97338.
For more information or to enter a team: Mike, 503-602-2144; Tod, 503-931-1595; church office, 503-623-2333.
Polk Republicans
set annual picnic
Tickets are now on sale for the Polk County Republican's annual "Celebration of American Values" picnic, scheduled Aug. 16 at 5 p.m. at Gentle House in Monmouth.
The event will feature a silent auction, oral auction conducted by Allen Alley, master of ceremonies and Oregon Republican Party chairman, music by Gayle Wendell, and Peggy Boquist's "Founding Mothers" program, which celebrates the 100th anniversary of a woman's right to vote in Oregon.
Cost for dinner, dessert and soft drinks is $20, $10 for those under 12. Beer and wine will be available for an additional cost. RSVP is needed by Aug. 9. Dinner payment can be sent to PCRW, P.O. Box 44, Dallas, OR 97338.
For more information: Lynnette or Gene Henshaw, 503-623-5759.
Central High Class
of 1952 will gather
Central High School's Class of 1952 will hold its 60th reunion Aug. 17.
A prefunction get-together and tour of Central High School is scheduled that day at 2 p.m. A potluck follows from 4 to 9 p.m. at the Monmouth Senior Center, 180 S. Warren St. Cost is $5 per attendee.
The reunion committee is seeking help in locating classmates Donald Mitchell, Harry Deboling, Jim Dustin and Bill Satterfield.
For more information: Rita Lewis Mills, 503-656-8440; Barbara Buss McCullough, 503-831-3845.
Dallas Class of '67
schedules reunion
Dallas High School's Class of 1967 will hold its 45-year reunion Aug. 18 at Premier RV Resorts in Salem.
A no-host social hour starts at 6 p.m., followed by a class photo at 6:45 p.m. and heavy hors d'oeuvers at 7 p.m.
Cost is $25 per person; photos are an additional $20.
For more information: Sally Kinion, 503-260-6238; Dave Mosher, 503-860-0639; or Ken Woods, 503-871-0056.
Festival car show
is seeking Shelbys
Organizers of the Hop & Heritage Festival are seeking owners of Shelby-American built or modified sports cars to participate in the annual event's car show on Sept. 29.
Paul Pfnister, coordinator, said a tribute to automotive designer and race car driver Carroll Shelby, who died in May, will be the theme for the show.
"It can be a Shelby Cobra, Shelby Mustangs or Dodges or kit cars," Pfnister said. "Any year."
The event will feature a Shelby "memorial cruise-in" prior to the car show at 11 a.m. At 3 p.m., participants will "fire the cars all at once" as a salute to Shelby, Pfnister said.
For more information on registration and entry costs: Paul Pfnister at 503-949-8751 or nwbp1@q.com.
Ballroom dance
lessons on hiatus
The free ballroom dance lessons that have been offered every Friday evening at the Church of Jesus Christ of Latter-day Saints in West Salem will take a vacation for the remainder of the summer.
Lessons offered by professional instructor, Rish Reinen, will resume Friday, Oct. 5.
For more information: Rish or Miki Reinen, 503-798-0927; e-mail to sirrish@msn.com.