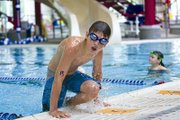 DALLAS -- It might be a good idea to keep the names Luke, Owen and Eli Hess in mind when it comes to future star athletes.
The three brothers are building a triathlon dynasty.
Well, at least for children under 10 years old.
Photo by Nicole Watkins
Isley Blackburn gets a little help with her bicycle gear in the first transition area in the 5-6 age division in Friday's event.
"I knew (I was going to win)," Luke Hess, 9, said confidently after he crossed the finish line first in the blue division -- ages 9-10 -- in Friday's seventh annual Summerfest Kid's Triathlon at the Dallas Aquatic Center.
What he didn't know, at least not at that moment, is that he wasn't the only champion in the family.
Owen, 8, and Eli, 6, also won their respective 7-8 and 5-6 age-group divisions.
Is there a secret training facility for swimming, biking and running at the Hess household?
Not exactly.
"My husband and I have always done sports," Brenda Hess, the trio's mother, said of herself and her husband, Jonathan, who live in Dallas. "So we just enjoy competition."
The best part of Friday's competition, however, wasn't about who won -- not to take anything away from the winners (congratulations to a very talented Hess family and Jonathan Dressel, who took top honors in the 11-12 age group).
It was about who finished -- all 32 children ages 5-12 -- and the atmosphere of encouragement and excitement provided by the Dallas Aquatic Center staff and the parents, grandparents, brothers and sisters and aunts and uncles who came to cheer on their triathletes in a three-part frenzy.
The whistle blew and the kids hopped in the pool, kicking and paddling their hearts out to the other side, where their parents were waiting to whisk them out to the bike transition area.
The next part -- and perhaps most entertaining -- was getting off goggles and life jackets and putting on shoes and helmets. Once on their bicycles, the competitors had to follow a sidewalk route, pedal to the medal, before tossing their bikes aside for a final run in the large field outside the aquatic center.
For me, it was almost like covering a cross-country meet -- racing with fellow spectators to each transition area, trying to get photos of the winning kids.
But for these little guys and gals -- and the best part of the entire event -- is that it wasn't about winning for them, at least not yet.
With high-fives, cheers and medals awaiting every finisher, these kids didn't care what their time was.
They were just happy they finished.
I heard the phrase "You did it!" more than a few times as kids crossed the finish line. What refreshing words to hear.
Kudos to organizer Tom Snyder, the Dallas Aquatic Center staff and volunteers for an event well-done.
--
Nicole Watkins is the sports editor for the Itemizer-Observer. She can be reached at nwatkins@polkio.com or 503-623-2373.