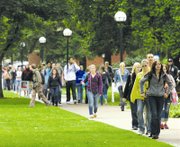 MONMOUTH -- Students at Western Oregon University will either endure a tuition hike or enjoy a slight decrease this fall -- depending on which payment plan they've enrolled in.
The State Board of Higher Education approved on Friday tuition rate adjustments for 2012-13.
Tuition rose by an average of 6 percent for all of the state's seven public universities, though fee reductions puts the overall increase to the cost of college at 3.4 percent.
Western's a special case, because of its "tuition promise" program and the recent reinstatement of a traditional tuition plan that was eliminated in 2011.
"Promise" students pay a large up-front tuition increase during the first year of their college career, though the rate remains flat the following three years.
Grpahic by Pete Strong
While WOU "tuition promise" students see an up-front cost increase, their tuition remains flat for four years.
Western students who participate in the initiative will pay $8,529 in yearly tuition and fees if they're taking 15 credit hours per term in 2012-13 -- a 5.6 percent jump from last year.
Students opting for the traditional plan will pay $7,989 a year
. Comparing regular rates for last year to 2012-13, these students will pay a 1 percent decrease overall because of certain fee reductions.
"We're delighted to offer our students and their families a choice between the two plans," said WOU President Mark Weiss.
Tuition rates are determined by considering each school's operating expenses, tuition hikes from the previous year and state funding.
WOU approved the traditional plan to provide flexibility for students and the campus' budget; the university can increase tuition annually by whatever amount it deems necessary.
Annual increases for traditional WOU students are estimated at 3 percent, but could jump to 10 percent or more depending on state funding, according to tuition information on WOU's website.
Di Saunders, a spokeswoman for the Oregon University System, said this year's overall tuition increase was less than half of what it was the previous year.
"Each campus has a different case, some had high increases last year and have been able to lower that this year," Saunders said, adding, "There's an awareness that we need to do more for affordability."
The University of Oregon's tuition and fees rose by 6 percent. Looking solely at tuition, Southern Oregon University had the largest hike, almost 9.9 percent.