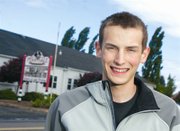 PERRYDALE -- Mychal Westendorf, Perrydale High's Class of 2012 valedictorian, is nothing if he's not humble.
Westendorf, who attended private school and was home-schooled before enrolling in Perrydale three years ago, credits his success to simple hard work.
He wrote a graduation day speech stressing the importance of understanding you don't have to be perfect as long as you put in the effort and learn from your mistakes.
"Work hard," he said. "You don't have to be smart or gifted to accomplish something."
That's not surprising for a three-year member of Perrydale's FFA program, which incorporates community service activities exemplifying what can be achieved when people work together.
"I love community service events," Westendorf said. "Hutch (Kirk Hutchinson, Perrydale's former FFA advisor) taught me a lot and broke down my fears of talking to strangers."
By far the biggest event on Perrydale FFA's calendar is Food For All, an annual food drive that helps feed thousands of people during the Christmas season.
It was equally important to Westendorf.
He committed five class periods every day to collecting, sorting and delivering food during the food drive.
"It was hard to say goodbye to Food For All in December," he said.
Saturday, he took the next step, saying goodbye to Perrydale.
He will attend Oregon State University in the fall, majoring in forestry engineering and civil engineering, an intensive five-year program. Thankfully, Westendorf is accustomed to a busy schedule. He was a two-year FFA officer and member of National Honor Society at Perrydale.
Outside of school, he's involved in Bridgeport Community Chapel's youth group and spent a significant part of his summers since 2007 at Camp Attitude, a camp for children with special needs and their families in Foster, just outside Sweet Home. This year, he worked at Les Schwab Tire Centers to save for college.
Attending a university the size of OSU gives Westendorf momentary pause. Perrydale is the biggest school he's attended, after all.
But his biggest concern is his major's focus on math. To conquer that he's leaning on the very same advice he gave his fellow graduates.
"I wouldn't call myself a genius," he said. "I'll just work hard and see where that takes me."