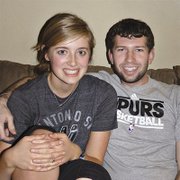 Mack-Williams
Molly Ann Mack of Eugene and Brian Matthew Williams of Eugene are planning a June wedding.
The bride-to-be is the daughter of Roland and Lynn Mack of Independence. Her fiance is the son of Randy and Nancy Williams of San Antonio, Texas.
Molly, a 2008 graduate of Central High School in Independence, received her Bachelor of Science degree
in mathematics in 2012 from the University of Oregon in Eugene.
Brian, a 2005 graduate of John Marshall High School in San Antonio, received his Bachelor of Science degree in business administration-accounting
and Master of Science degree in accounting in 2010 from Texas A&M University in College Station. He is currently attending the University of Oregon, working on his doctorate in accounting.
The wedding is set for Saturday, June 16, at Oak Grove Church in Rickreall.