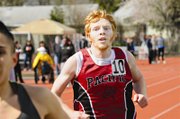 Joe Deardorff of Independence recently was selected as a NCAA Division III Cross Country All-Academic award winner by the U.S. Track & Field and Cross Country Coaches Association.
To qualify for the honor, a student-athlete must have compiled a cumulative grade-point average of 3.30 or higher and placed in the top 35 at the NCAA Division III Regional Championships.
Deardorff, a junior at Pacific University in Forest Grove and 2009 graduate of Central High School, earned second-team all-Northwest Conference honors after finishing 12th last fall at the league's cross country championships. He posted a personal-best time of 25 minutes, 58.78 seconds for 8,000 meters. He later earned NCAA Division III All-West Region honors after placing 30th at the West Region championships.
Deardorff currently is competing with the Pacific men's track and field team as a distance runner.
Eryka Brill
of Dallas has been contributing to the Western Oregon University softball team this spring. The sophomore right-handed pitcher has appeared in 11 games this season, posting a 2-4 record and holds a team-best 3.38 ERA to go along with 10 strikeouts. Brill is a 2010 graduate of Dallas High School.
Leigh Anne MacCarthy
of Monmouth is on the roster of the women's track and field team at Eastern Oregon University in La Grande. MacCarthy, a 2009 graduate of Central High School, is a redshirt sophomore competing for the Mountaineers.
Bri Brewer
of Monmouth has returned for her sophomore season of eligibility with the Linfield College softball team in McMinnville. Brewer, a second baseman, had appeared in eight of the Wildcats' first 24 games. She is batting .600 and has a 1.000 fielding percentage.
Andy Thiessen
Andy Thiessen
of Dallas is part of the 2012 baseball team at Corban University in Salem. Thiessen is a right-handed pitcher for the Warriors. He has appeared in four games and has a 0-1 record and 1.80 ERA. Thiessen is a 2011 graduate of Santiam Christian High School in Adair Village.
Patrick Deptula
of Monmouth is competing this spring for the Linfield College men's track and field team in McMinnville. Deptula is a returning letterwinner for the Wildcats, competing in sprints. He is a 2009 graduate of Central High School.
Kaitlyn Mason
of Independence is having a solid freshman season with the George Fox University women's track and field team in Newberg. Mason has already posted Northwest Conference qualifying marks in the long jump (season-best 16 feet, 8.75 inches) and triple jump (season-best 34-8.50) this spring. She is a 2011 graduate of Central High School.
Kaitlyn Mason
Seth West
of Monmouth is a member of the men's track and field team at Corban University in Salem. The 2011 graduate of Central High is a sprinter for the Warriors.
Items for College Notebook are provided by college and university sports information departments. To submit an item or a tip for College Notebook, send it via e-mail to iosports@polkio.com or contact Sports Editor Nicole Watkins at 503-623-2373 or nwatkins@polkio.com.