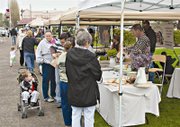 DALLAS -- With the beginning of May comes Polk County Bounty Market, Dallas' weekly farmers market. And this year with the market comes wine to complement the fresh veggies, eggs, cheeses and breads visitors have grown accustomed to finding over the last two seasons.
Thursday is the market's opening day and for the first time wine tasting and bottle sales will be available, courtesy of the members of the Mid-Valley Wine Trail, a group of seven wineries in the Dallas and Rickreall areas.
"We are really excited," said Market Manager Bonnie Dreier. "The wineries are really excited, too, to get people aware of them and tasting their wines."
During the course of the season, customers will be able to sample wines from Johan Vineyards, Eola Hills Wine Cellars, Van Duzer Vineyards, Namaste Vineyards, Chateau Bianca, Left Coast Cellars and Firesteed Cellars. One of the seven wineries will be featured at the market each Thursday on a rotating schedule through closing day on Sept. 27.
Polk County Bounty Market, which is run through the Dallas Area Visitor's Center, had wanted to include wine since it began in 2010.
"This is an awesome opportunity to let people know what is available," said Chelsea Pope, the executive director of the Dallas Area Chamber of Commerce. "We are definitely in wine country and we need everyone to know that."
Johan Vineyards will be the first wine vendor to visit the market. Stacy McGinnis, Johan's direct-to-customer sales manager, said the group of vineyards is excited to be included in the market this year.
"A lot of people don't realize how many wineries are in this area," she said. "This gives people in the area a chance to try us out."
Along with the new wine booth will be the familiar faces of vendors returning for their second or third seasons at the market.
The market will open with about 10 vendors offering an assortment of bread, cheese, candy, vegetable starts, early-season fresh vegetables and hanging flower baskets.
As is typical in the beginning of the season, fresh fruit and vegetable offerings will be limited until later in the year.
Pope said last year's delayed growing season was a lesson for market mangers and customers. To let customers know ahead of time what to expect, the market's website and Facebook page will list vendors and what they will sell, as well as special events and activities scheduled for the week.
Dreier said in spite of the difficulties last year's weather presented, she and the vendors are eagerly awaiting the beginning of the new season.
Steve Segal, whose Good & Bready booth has become a market favorite, will return for a third season. He said opening day brings a lot of excitement among what has been described as the "market family."
"There's a lot of solidarity among the market vendors," he said. "It's a great environment."
Polk County Bounty
What:
Polk County Bounty Market.
When:
Every Thursday, May 3 through Sept. 27, from 2 to 6 p.m.
Where:
Polk County Courthouse lawn, 850 Main St., downtown Dallas.
Opening Day Activity:
Creating Mother's Day cards.
Of Note:
Farm Direct/WIC Program will be accepted beginning June 7 and through the rest of the season. Debit and credit cards will be accepted at the market manager's booth. Polk County Bounty has applied to accept Supplement Nutritional Assistance Program (SNAP) benefits and may be eligible later in the season.
Polk County Bounty Market is looking for volunteers to help out during market hours and with set up and tear down. To volunteer, contact Bonnie Dreier at 503-623-2564.
For more information:
See vendor lists, scheduled entertainment and children's activities and more by visiting www.dallasoregon.org/davc/index.htm or on Facebook under "bounty market."