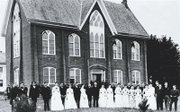 MONMOUTH -- Bruce Hamilton enrolled in what was then the Oregon College of Education in 1946. Like many in that year's group of freshmen, he was a World War II veteran.
Three days after returning to Salem from the Philippines, Hamilton drove though Monmouth and stopped after seeing students gathered on Monmouth Avenue.
"I didn't even know there was a school there," Hamilton, 86, said. "I asked if they had a football team, they said 'yes.' The next day, I came back and enrolled."
OCE was small, about 700 students total, he said. He met his wife there and played defensive back for the Wolves.
He later taught and worked as a public school administrator across Oregon afterward, but kept close ties to his alma meter.
The way the campus has changed -- physically and program-wise -- since WWII deserved a book, Hamilton said. So Hamilton recently self-published "The Evolution of a Special Place, OCE/WOSC/WOU: WWII to 2012." All proceeds from book sales will be donated to the WOU Foundation.
"The Evolution of a Special Place, OCE/WOUS/WOU" available in print in June and can be purchased at The Cottage near Todd Hall at Western Oregon University.
"I'm not making any money off it," he said. "I just wanted to show how things have changed since the time I went to school here ... many of the values that made it a special place are still here."
Hamilton, who lives in Portland, haunted the archives of Hamersly Library for three years to find pictures and old newspaper clippings.
He also worked with school officials to find students interested in writing their own memories. Denise Visuano, WOU public relations director, laid out the book.
Most of WOU used to be contained between Church and Jackson streets, according to a 1949 campus map. Vet's Village, a collection of 42 apartments, sat where the current Grove exists today.
"In today's world, $18.75 rent sounds unbelievable but on an income of around $100 a month, it was about right," Lois Jones, a 1953 graduate, wrote. "Tuition was $29 a term."
Hamilton recalled how student body leaders informed he and other freshmen one evening of an initiation ritual which required them to wear beanies to class for one week.
"You might be able to visualize how that news was received by a group of war veterans," he wrote. "We not only did not wear 'beanies,' we ignored some of the other requirements as well."
There's a page devoted to the power shortage of 1973, which resulted in no lights being hung on the giant sequoia near Campbell Hall during Christmas; students gathered around the tree anyway to sing carols.
The book contains images of structures long gone, like Memorial Stadium. The predecessor to McArthur Field burned to the ground on June 6, 1978, just days before commencement.
Hamilton touched on Western's transition from a pure teaching school to a more comprehensive learning institution. Former Western President Richard Meyers called Dec. 21, 1990, a "day of days" -- that's when five new degrees were added to the school's liberal arts college.
Russell Baglien, who worked for the university's sports information department, wrote about OCE's 9-0 football record in 1949. The team scored 304 points during the season and only allowed 41.
"The Wolves sat back and waited for some sort of postseason bowl game," Baglien wrote. "None ever materialized, so the greatest season in the history of the college simply became history."
Check It Out
* "The Evolution of a Special Place, OCE/WOSC/WOU" will be available in print in June and can be purchased
at The Cottage near Todd Hall at Western Oregon University. A price for the book hadn't been set as of press time. For more information: 503-838-8208.