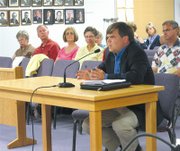 MONMOUTH -- Marr Bros. Bark representatives contended before City Council last week that a zone change on the company's property is the only practical way the business can expand in the future.
Residents of Edwards Addition to the east, meanwhile, have argued that livability in their neighborhood will be compromised if that happens.
Marr Bros. operates on 10 acres of land just south of Monmouth. Owners Jim and Penny Marr seek to rezone 16.3 acres of their adjacent unused property from its Polk County "suburban zone" designation to light industrial.
The couple wants to move concrete bins of landscape material from its processing yard to the north, to lower debris piles, improve access for customers and possibly offer new products, said Frank Walker, the Marrs' land-use consultant.
The property is under county jurisdiction, but in the city's urban growth boundary; the county will only approve a zone change if Monmouth amends the land on its comprehensive plan map from low-density residential to an industrial zone.
The Monmouth Planning Commission has recommended denying the request based on a number of criteria. One concern was that officials would have no authority to review future industrial uses on the Marrs' site.
A May 15 public hearing before City Council drew about 30 people and lasted almost 3 hours. Walker stressed that only 7 acres of rezoned land would be used and no new machinery would be brought closer to nearby homes.
Expanding by utilizing Marr-owned property on the other side of Highway 99W would cause traffic issues and require major infrastructure investments, Walker said. Demand for bark dust and wood products has grown in recent years, he also said.
Jerry Shinkle, a local resident, said the bark dust plant operated near his home in west Monmouth many years ago and never bothered him then.
"It's the only real (industrial business) in this town," Shinkle said. "I'm speaking for free enterprise -- a guy wants to expand his business a little bit."
Opposition for the project is mainly from Edwards Addition homeowners.
Developer Eric Olsen said he created the 88-acre subdivision with an understanding from previous city planners that the town vision for the unused Marr property was low density housing.
"If we had thought the city's goal was to have that as industrial land, our own master plan would have been entirely different," Olsen said. "This would have a very negative impact on Edwards Addition."
City Council will deliberate on zone redesignation at its June 5 meeting.