Tuesday, November 13, 2012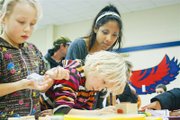 INDEPENDENCE -- "Do you guys still sing the song?" Brittney Bettles asked a group of Henry Hill Elementary School students.
"We're the Henry Hill Hawks! We're the Henry Hill Hawks!" she belted out.
A few kids looked at one another. Some giggled.
"No?" she asked. "Sad!"
There are almost 100 children and parents inside the Henry Hill gymnasium on this particular evening for "Family Literacy Night." Many are gathered at tables full of supplies for art activities run by Central High seniors like Bettles, who's also a Henry Hill alumnus.
Gloria Gonzalez, another Central student, compliments students on their creativity at an ink-and-stamp art station.
Hirandi Velez, a recent Panther graduate, hands out book covers for decorations at another station and translates instructions for Spanish-speaking attendees.
"I think they interact really well with the younger kids," said Nancy Albritton, Henry Hill's librarian and event coordinator, of the high school students. "I've kind of come to depend on them."
There's any number of family events scheduled at Henry Hill during a given month -- and a near certainty you'll spot a Central High student there helping out.
Since at least the late 1990s, Albritton has regularly recruited volunteers from the high school to lend a hand or even take the lead with activities.
"High school kids have a reputation of not sticking through with things, but that hasn't been the case here at all," said Sharon Tebb, Henry Hill principal.
"The volunteer thing has been happening for about three years for me," said Gonzalez, who's part of a student team that will fundraise for and coordinate a "Dr. Seuss Day" in the spring. "It feels good when the kids look up to you."
Albritton said she has had as many as 20 Central High volunteers working at Henry Hill in some capacity throughout the year. Sometimes it's for a church or high school senior project. Often, it's students wanting to be active.
While any school volunteer is a blessing, there's something about older students that resonates with their younger peers, Albritton said.
"The kids get to see successful high school students who might be going off to college," Albritton said. "They're role models."
For their part, the teens are learning how to connect with community organizations for resources. Because fundraising is needed to support events such as Family Literacy Night, Central High youths are even learning how to write grants.
"It's helped me become a better leader," Bettles said.
Albritton said what she's enjoyed is Henry Hill alumni returning to their roots, like Central High senior Megan Butler.
For the last four years, Butler has assisted with the school's summer lunch program and plans to run an art night project for children here later this year.
"I like being around kids, I get along with them," she said. "After I graduate, I want to be a kindergarten teacher."