Tuesday, November 20, 2012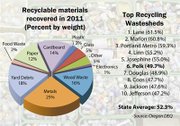 POLK COUNTY -- Polk County recycled nearly 50 percent of its waste in 2011, recording the sixth-best rate in the state for the second year, according to a state report released last month.
The report tracks "waste recovery rates," or the amount of waste material that is recycled, composted or burned for energy.
Polk's 49.7 recovery rate is up from 47.6 percent in 2010 and is part of a slow trend upward for the county.
The county recovered 34,526 tons and disposed of 37,817 tons in 2011. Added into the recovery rate is a 2 percent credit for the county's waste prevention program.
"We are doing a pretty good job," said Jim Solvedt, the county's environmental health supervisor, noting the county isn't far behind larger metropolitan areas. "We are not a large city (but) we are still doing it."
The DEQ report divides the state into 35 "wastesheds" that consist of counties or metropolitan areas. Lane County leads the state with a 61.5 percent recovery rate, followed by Marion County at 60.8 percent and the Portland Metro area at 59.3 percent.
Statewide, the rate is 52.3 percent, the first time the state rate has risen above 50 percent since reporting began in 1992.
Solvedt suspects the rising recovery rates, locally and statewide, are a product of an effective recycling informational campaign that began in schools and communities about 20 years ago.
"I believe over the last 20 years that had an impact," Solvedt said. "Kids can change the culture at home through peer pressure."
Polk County launched its own campaign in 1998 with the goal of reaching 35 percent by 2009.
The county surpassed that goal by 2001 with a rate of 39 percent.
Solvedt credits more recent increases to garbage collection companies introducing carts that allow users to throw most of their recyclable material in one container. Yard debris carts also have contributed to the recovery rates, he said.
"Haulers are providing an easy way to recycle," Solvedt said. "The co-mingled mixed recycling ... it's all going into one cart."
Chuck Lerwick, the operations manager for Allied Waste, said since introducing the co-mingling carts about two years ago, recycling has gone up about 10 percent.
"We've made it easier, so people want to participate," Lerwick said.
He added that Allied Waste seeks to increase recycling rates with a new informational campaign through presentations at area schools and community events, such as Summerfest and the Polk County Fair.
Lerwick said he believes Polk County will soon be able to meet or surpass the statewide goal of a 50 percent recovery rate.
"We should be able to reach that goal next year," Lerwick said. "The community is dong a really good job on recycling."