Wednesday, October 3, 2012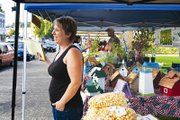 DALLAS -- This year Polk County Bounty Market was prepared for bad weather.
In fact, after last year, vendors and managers simply expected it.
After a remarkably pleasant season -- especially in the latter half -- those rainy day expectations didn't come to fruition.
"I got brand new boots and I only got to wear them one day," said Chelsea Pope, the executive director of the Dallas Area Chamber of Commerce and Visitors Center, which runs the market.
Thursday was the last week of the third season for Bounty Market, which Manager Bonnie Dreier called the best season yet.
"It was a good season," Dreier said. "I felt that from the beginning of the year. I felt that it was going to go well." Customer counts continue to increase, up to 10,345 this year from 9,124 in 2011. Sales also increased slightly to $57,000 from $55,000 in the previous season. The total number of vendors who attended the market was down slightly, but Dreier said the average weekly vendor count increased overall.
Graphic by Pete Strong
While the weather was more cooperative and attendance and sales were up, there were aspects of the market Dreier feels could be improved.
The first potential change could be the hours -- possibly shifting to be open for the lunch hour. Pope said the market would like to hear customer and community feedback on that point.
"We are going to talk to the vendors about timeframe, whether being open during the lunch hour would be better," Pope said. "Bonnie had a lot of vendors report that they were making a lot of their sales before they were officially set up because people were trying to catch them (during the lunch hour)."
"We are going to talk to vendors about it, but we would really like to know what the community wants on that point. Is it a lunch time or is it more of a dinner time thing?"
Expectations were high for the new winery booth, which featured one area winery each week for tastings and bottle sales. However, the booth wasn't quite the draw it was expected to be, with a few exceptions.
"They did have return customers," Dreier said. "We noticed certain people who would come back. They built a little following."
Dreier hasn't discussed with the wineries if the booth will return. But wine lovers shouldn't fret. Dreier said local wine will be featured in some way next season.
Pope said another change for next year will be a stronger focus on weekly events, such as live music and children's entertainment.
"This year we just didn't have the staff and volunteer base that we needed," Pope said. "That would be, I would say, the biggest thing for next year."
The market will hold its annual wrap-up and next season planning meeting on Oct. 25.
"I'm going to miss market," Pope said. "It's like a B12 shot to the arm. I'm looking forward to next year already."