Tuesday, October 23, 2012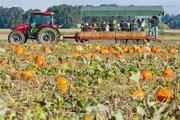 POLK COUNTY -- The lot at Setniker Farms' pumpkin patch north of Independence is nearly full by 9 o'clock on a recent weekday morning. Thirty minutes later, visitors are using a field across the road for overflow parking.
There are four field trips scheduled from private schools in Dallas and Salem and two more groups who annually come from Lincoln City -- 70 kids in all and a boatload of parents and teachers.
Lindsey Setniker climbs into a tractor and ferries a group to the field via a hayride to select the perfect pumpkin. Inside the barn, kids are diving into a corn pit and careening down a giant hay slide.
Setniker and her sister-in-law, Trisha Dalke, will spend 70 hours this week operating the pumpkin patch and its carnivalesque activities for some 400 visitors. It's a cake walk compared to the weekend, Dalke said.
Photo by Pete Strong
Trisha Dalke helps Tyler Reagan, 7, pick out the perfect ear of Indian corn Oct. 17 at Setniker Farms.
That's when they open the "haunted" corn maze, complete with its own chain saw-wielding maniac.
"It gets to where you have people waiting in a long line," Dalke said. "It gets crazy."
You would think things would slow down on a farm by late October, but not for those operations in the Willamette Valley who take advantage of the Halloween frenzy and become veritable agricultural theme parks for a month.
"It's a lot of work," Setniker said. "But Trisha and I have kids, and we see how happy it makes those kids who come out here."
Aaron and Sarah Kennel have run the Airlie Hills Farm Harvest Festival southwest of Monmouth for the last six years. Planning starts months in advance and the actual attractions take a few weeks to set up.
The Kennels began with just a hay ride, a half-acre pumpkin patch and scant activities. The festival is now spread over 12 acres, has more attractions, better marketing, and a 5-acre corn maze that Aaron Kennel mapped out using GPS and cut to resemble an owl.
"I spend a lot of time thinking up attractions; Sarah is the one telling me we only have so much time," Aaron said. "We balance each other out that way.
Between 400 and 800 children and adults attend the pumpkin patch and festival every week -- and it doubles during weekends.
Photo courtesy of Aaron Kennel
Airlie Hills Farm's corn maze this year features an owl design cut into the crop with help from special computer software and a GPS system mounted on the tractor.
"We hired some high school kids, six to eight of them, to help out on weekends," Aaron Kennel said. "It's too busy to do by ourselves."
Kennel had been part of his family's grass seed operation until three years ago, when he took a state youth corrections job.
The festival has become necessary supplemental income for his own family, he said.
"This is obviously different than just planting crops, but farmers have to diversify these days," he said. "With agritourism becoming more popular, this is a way to do that."
Rogue Farms planted a pumpkin patch at its hopyard in the Buena Vista area in 2011, mostly for ingredients for a line of seasonal beer. A small celebration that accompanied drew a crowd large enough to convince Rogue to expand the concept.
As such, Rogue is planning live music, sack races, cider-making, a chuck wagon and other attractions for its "Pumpkin Patch Party" on Oct. 28 for an expected 400 to 500 visitors.
"It seems like there are more and more of these events happening; people love fall and being outside," said Natascha Cronin, who manages Chatoe Rogue at the farm. "In the valley, it's one more opportunity to be outside before the real miserable weather starts."
Dalke's brother and sister-in-law, Eric and Michelle Setniker, started the Setniker Farms pumpkin patch in the late 1990s. It went on hiatus when they moved away, but was resurrected by Dalke and Lindsey Setniker in 2008 at the urging of past patrons.
It's grown every year, with full concessions on weekends. For their spooky corn maze, they've added a haunted house with strobe lights, audio and actors that participants must pass through.
"We've had people come through in tears," Dalke said. "One girl even wet her pants."
Lindsey Setniker said the farm doesn't need the pumpkin patch. With so many people in one place, however, it proved useful in the past for marketing Setniker beef, she added.
Dalke said it's an army of family members and volunteers who make the event possible; Lindsey Setniker's mother, for example, bakes more than 2,000 cookies to sell.
"It's been fun to watch it grow," Lindsey Setniker said. "We get the same families coming back here every year."