Wednesday, October 24, 2012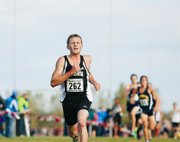 MONMOUTH -- On a day when Alaska Anchorage swept the field, Brady Beagley did his part to help a struggling Western Oregon University men's cross-country team that has already set its eyes on the upcoming NCAA West Regional.
He came in first -- 13th overall -- for the Wolves, who finished a disappointing fourth (112 points) in the team standings at Saturday's Great Northwest Athletic Conference Cross-Country Championships, held at WOU's Ash Creek course.
"I think I just really got some good confidence," Beagley said of his time of 25 minutes, 44 seconds, in the 8,000-meter race.
"Just being able to know that I can take over the race for my team and run through it, try to help them out."
It was Beagley, a junior who finished 54th in the race a year ago, who took over for the WOU men when usual top runner Connor Kasler (28th, 26:13) struggled.
"Really, all I've been doing is following Connor, but he wasn't feeling really good today, so I needed to take over the team," Beagley said.
Kasler jumped out to an early lead around the 2-mile mark, but faded late as Alaska Anchorage's army of runners, led by defending champion Micah Chelimo (24:49), took over.
AAU won the meet with 23 points -- with five runners in the top 10. Western Washington placed second (50 points) and Montana State Billings was third (103).
"Sometimes in the middle of the season I get anemic; my iron levels get a little low and I just can't follow through in races," Kasler said afterward.
"Nov. 3 is where it counts, you know."
Nov. 3 marks the date of the 2012 NCAA Division II West Regional in Kahuku, Hawaii, where the Wolves hope to rebound for a return trip to the national championship meet.
In order to do so, they'll have to place in the top five.
Photo by Nicole Watkins
WOU's Rachel Shelley, right, was the top finisher for the women.
"We know we can make it to nationals this year -- all we have to do is get top five at regionals and we're ranked fourth right now," Beagley said, referring to the current West Regional rankings. "So long as we race better than we did today, we'll be good."
David Smith, a transfer from the University of Houston, was the Wolves' second finisher, as he placed 19th with a time of 25:56, and Scott Larson was 24th with a time of 26:04.
Smith, like the rest of the WOU squad, wanted more.
"None of us did as well as we wanted to, so that's something to have on our shoulders as we run in the 10,000 meters (at regionals)," Smith said.
On the women's side, WOU's Rachel Shelley was the top finisher for a young Wolves team, placing 35th with a time of 22:32 in the 6,000-meter race. Holly Meler (39th, 22:43) and Stephanie Stuckey (40th, 22:51) rounded out WOU's top three finishers.
Western finished ninth (201 points) in the team standings, which were topped by four-time defending champion Alaska Anchorage and its near-perfect team score of 16 points.
Led by Susan Tanui's first-place finish (20:37), the Seawolves' runners placed 1-2-3-4-6-7 to dominate the field.
WOU coach Mike Johnson hopes for better times ahead for both of his squads, but, like his runners, was disappointed in the men's finish.
"Alaska Anchorage did a very fine job, and not to take away anything from any of the other teams, but we should run better," Johnson said. "The athletes need to be more relaxed -- it's not for lack of trying, it's for trying too hard."
NCAA Division II Cross-Country West Regional Championships
When:
Nov. 3. Men's 10K begins at 8 a.m.; women's 6K starts at 9 a.m.
Where:
Kahuku Golf Course, Kahuku, Hawaii.