Tuesday, October 30, 2012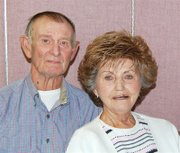 Hoekstre -- 60th
John and Ruth Hoekstre of Dallas will celebrate their 60th wedding anniversary with a private family dinner on Nov. 4 in Dallas.
John Hoekstre and Ruth Barendrecht were married Oct. 28, 1952, at Christian Missionary Alliance Church in Dallas.
Rev. McGarvie performed the ceremony.
The couple have lived in Polk County all their lives, having previously resided in Salt Creek but now Dallas.
John is a farmer. Ruth is a homemaker.
The couple are active church members of Calvary Chapel in Dallas and every winter go to San Philippi in Mexico to help out at a girls orphanage.
Their family includes Carolyn Tish of Dallas, Sharon (Steve) Kliewer of Dallas and Linda (David) Gumm of Corvallis. The couple have seven grandchildren and seven great-grandchildren.