Tuesday, September 4, 2012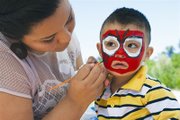 Group sets Friday
pregame activity
The Gate Youth Association is hosting a community "tail-gate" event Friday from 5:30 to 6:30 p.m., prior to the Central-Dallas prep football game at Panther Stadium.
The event takes place in the parking lot and on the front lawn of First Baptist Church, across the street from Central High School.
Hamburgers, hot dogs, chips, watermelon and drinks will be served. It will be a time to enjoy a pregame dinner with friends and learn more about what The Gate is doing in the Monmouth-Independence community.
Donations will be accepted to support Gate programs for Monmouth-Independence teens. Gift baskets will be raffled and outdoor games will be available.
For more information: Joyce Wahl, 503-838-5653.
Indepizza slates
night of comedy
Stand-up comedy returns to Indepizza in downtown Independence Friday night, with a dual headliner show featuring Cody McCullar and Kyle Harbert.
McCullar has been seen at the Bridgetown Comedy Festival and Harbert has appeared at Harvey's Comedy Club.
Admission to the 9 p.m. show is $5 in advance and $7 at the door. Indepizza is located at 301 S. Main St., Independence.
For more information: Will Woodruff, 503-881-3392; www.woodruffcomedy.com; e-mail to spacemoogle5@gmail.com; on Facebook at Comedy-at-Indepizza.
Youths can ride
with pilots Sept. 1
Youths will have an opportunity to fly in a general aviation aircraft as part of the Young Eagle Flights program at Independence State Airport on Saturday.
The event is coordinated by the Experimental Aircraft Association and is open to kids ages 8-17. It runs from 9 to 11:30 a.m. at the EAA Chapter 292 hangar, 4803 Airport Road.
There is no charge, but participants must be accompanied by a parent or guardian. Permission forms are available at the hanger.
Students will go through a basic "ground school" that will teach them about airplanes and what happens during flight. They'll then do a pre-flight inspection of a plane before a 15- to 20-minute ride with pilots from Independence EAA Chapter 292.
For more information: David Dullman at david@daviddullman.com.
PCL schedules
community picnic
Partnerships in Community Living will honor outstanding staff members and community leaders at its annual Community/Employee Picnic on Saturday.
The event takes place at 11:30 a.m. at Riverview Park in Independence. It is free and open to the public. Food and refreshments will be served.
Employees who've been with PCL for 10, 15, 20 and 25 years will be recognized during the celebration. There will also be special awards for community advocates and volunteers.
PCL is a nonprofit organization that provides residential and employment services to individuals with developmental disabilities throughout the Willamette Valley.
For more information: 503-838-5815 or Kevin Priest at kpriest@pclpartnership.org.
Caterpillar workers
to gather Saturday
All former Dallas Caterpillar plant employees and their spouses are welcome to an annual reunion potluck Saturday.
The reunion will be held from 1 to 6 p.m. at the home of Jerry and Gloria Bennett, 10765 Rickreall Road, Dallas.
Those planning to attend are asked to bring food to share, your own beverages and folding or lawn chairs. Table service and coffee will be provided. The meal begins at 2 p.m.
For more information: Jerry or Gloria Bennett, 503-623-2946; Orval Stepper, 503-623-2474; e-mail to jerglobe@msn.com.
Sons of Norway to
meet in West Salem
"Hammer of the North" is the topic of the program scheduled when Sons of Norway Thor 42 meet Saturday in West Salem.
The gathering takes place at Salem Masonic Temple, 1625 Brush College Road NW, West Salem, at 6:30 p.m.
Anyone interested in Norwegian heritage is welcome to attend.
For more information: Evelyn Moreland, president, 503-910-3302.
Monthly dances
resume Saturday
After a break for summer, Guthrie Park Community Center resumes its monthly country square dance Saturday from 7 to 10 p.m.
All ages are welcome for an evening of dancing to the music of Cash & Company. Caller is Alan Ede. Dances include old-time squares, big circles, longway sets and waltzes. No experience is necessary; all dances are taught.
Admission is $5 per person and children 12 and under are free. A family rate of $15 for four or more people from the same immediate family is available.
The center is located at 4320 Kings Valley Highway, south of Dallas.
For more information: Sally, 503-623-0809; guthriepark@gmail.com; www.guthriepark.org.
Book signing event
planned for Monday
Noted Oregonian and author Gerry Frank will be on hand for a book signing event Monday at 7 p.m. at the Independence Public Library.
Frank will be signing copies of his latest book, "Gerry Frank's Oregon," which includes references to the Pink House Cafe and Ragin River restaurants in Independence. The event is free and refreshments will be served.
The library is located at 175 Monmouth St., Independence.
For more information: Independence Public Library, 503-838-1811; Betty Plude, 503-838-4039.
Health screenings
available in Dallas
Community members can receive a health screening to reduce their risk of having a stroke or bone fracture during an event Tuesday at Dallas Alliance Church, 775 E. Ellendale Ave.
Screenings identify potential cardiovascular conditions such as blocked arteries and irregular heart rhythm, abdominal aortic aneurysms, and hardening of the arteries in the legs, which is a strong predictor of heart disease. A bone density screening to assess osteoporosis risk is also offered and is appropriate for both men and women.
Screening packages start at $149. All five screenings take 60 to 90 minutes to complete. Preregistration is required.
For more information or to schedule an appointment: 1-877-237-1287; www.lifelinescreening.com.
Women's military
group will gather
Salem Women's Military League, whose membership area includes Polk County, will host a luncheon Tuesday at Creekside Golf Club Restaurant, 6250 Club House Drive SE, Salem.
Wives, widows, mothers, daughters or sisters of commissioned and warrant officers of all branches of the United States military, or any woman commissioned in her own right, are welcome to attend.
A social hour begins at 11 a.m., with the luncheon at noon. Attendees will order from the menu.
For reservations or more information: Anne Rose, 503-585-5810.
Bone health topic
of one-day class
West Valley Hospital is the site for a one-day class addressing bone health.
"Building Better Bones" will be offered Wednesday, Sept. 12, from 10 to 11:30 a.m. in the hospital's conference room, 525 SE Washington St., Dallas. Cost is $5.
Attendees will learn why bone health is important, who is at risk for developing bone loss, and how osteoporosis or low bone mass is prevented, diagnosed and treated. A free bone density screening is included.
For more information: Jessica Hicks, 503-814-2432; e-mail to chec@salemhealth.org.