Tuesday, September 18, 2012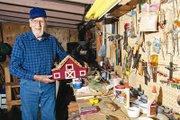 DALLAS -- Each Thursday at the Polk County Bounty Market, located between vendors selling fresh-picked berries and homemade soap, you'll find Bill Morris and his "For the Birds" booth.
His collection of creative and carefully crafted birdhouses has been a constant during the market's first three seasons.
Morris himself has become a beloved member of the "market family," one who is missed on the rare occasion he skips a week.
"He's a huge support to everybody here," said Bonnie Dreier, Bounty Market's manager.
She said when she was looking for vendors for the market's first season, Morris was among the first to sign up. Dreier said he was a perfect fit.
"I was very, very excited because we didn't have a lot of artisans," she said. "It's hit and miss for him to sell, but when he does, he's just so excited."
Morris isn't certain why he began building birdhouses about a decade ago, but speculates having been long retired from a 30-year career in the U.S. Postal Service that he just needed something new to occupy his time.
"I can't say for sure," Morris said, pausing to think about
how he found his favorite hobby. Morris then added: "It's fun. I like it."
At the time, he was living in Milton-Freewater and soon decided to sell his birdhouses at the farmers market across the Oregon-Washington border in Walla Walla.
His uniquely designed birdhouses, most topped with his trademark real roofing shingles, were popular among the market goers in Walla Walla.
"It's like some other products: The right person has to come along at the right time," he said. "Sometimes I sell two to one person and some days I won't sell any."
Inconsistent sales didn't stop him from attending markets, including Bounty Market, each week.
Schoolhouse birdhouse
"I like people," Morris said Thursday during the weekly market session. "I like to people watch and be around people."
Having moved to Dallas a little more than three years ago, the 86-year-old Morris has developed a small following locally.
He said he went on a walk recently and noticed one of his birdhouses in the yard of a home near where he lives with his son and daughter-in-law.
The memory brings a smile to his face, as do testimonials from happy customers.
"Every once in a while, people come by and say they have a bird in their house," he said.
Morris has developed a wide range of styles for his birdhouses -- from a simple A-frame to log cabin replicas to lighthouses. He said he derives most of his ideas from photos or buildings he's seen. Once he finds a building he likes -- whether that be a barn or a quaint-looking cottage -- he designs a scale model just the perfect size for a backyard birdhouse.
"I don't think I have ever used a plan to build a birdhouse," he said. "They all come up in my head or I see a picture."
Morris said he counted about 40 different styles in his repertoire. He doesn't have a favorite.
"I like them all," he said.
At $25 each, many have told Morris his birdhouses are underpriced -- especially given that it typically takes a day to finish one -- but he doesn't seem to mind.
Slowed some by recent health issues, Morris still seems to find an escape building his lovingly designed homes for birds.
"When I get to doing that, nothing else bothers me," he said.
His son, Brian Morris, said he thought the 2011 market season was his father's final one after he had two surgeries last year.
But Bill Morris' love for his craft and attending market each week both drew him back.
Barn birdhouse
"He still likes to do it," said Brian, who helps his father set up his market booth on Thursdays. "I try to keep him from making so many because he doesn't sell them all, but he likes to keep his inventory up."
Dreier said she, too, thought Morris was "retiring" last year, but was glad -- if not too particularly surprised -- to see him back this season.
"He (Bill) was driving him (Brian) a little crazy," she said. "He wanted to be here.
"He was a big inspiration to me as a market manager," she continued. "His heart and dedication to markets spoke to me."
Morris said he may spend more time relaxing next season -- possibly attending market every other week instead of the full season -- but he doesn't think he's ready to stop.
"I've kind of slowed down a bit," he said. "But I still have to do something. I can't just sit around and read all the time."
For the Birds
What:
Birdhouses by Bill Morris.
Where:
Polk County Bounty Market, 2 to 6 p.m., Polk County Courthouse Lawn, 850 Main St., Dallas, each Thursday through Sept. 26.
For more information:
To purchase a birdhouse or for special orders, call Bill Morris at 503-623-9504.