Tuesday, September 25, 2012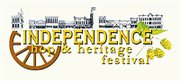 INDEPENDENCE -- Summer's over ... so why are people in Independence so happy?
Likely, it's because the party is only getting started.
The 12th annual Hop & Heritage Festival, which kicks off Friday, provides three days to celebrate the changing of a season, the town's history and community pride.
"Locally, we all know what the Hop Fest is," said Natascha Cronin, co-chairwoman of the Hop & Heritage committee. "But it's great to get the out-of-towners here, as well."
For those who need a reminder, the event is a nod to the "hop fiestas" that farmers and their families in and around Independence threw from the early 20th century to the late 1950s to mark the end of the hop harvest.
This year's edition features classic staples, such as the Ghost Walk on Friday evening. The supernatural tour of Independence's downtown core has grown so popular that planners will have to cap attendance at 1,000 attendees, said Marilyn Morton, Ghost Walk coordinator.
The number of live musical performances has grown this year and will start late Friday afternoon and continue throughout Saturday. The funding for the fireworks show on Saturday night has also increased by 25 percent, Morton said.
New to the Hop Fest is the Critter Parade, the brainchild of Mayor John McArdle. Residents are invited to gather at the Independence Public Library at 10 a.m. on Saturday for a procession of their dogs, cats and other pets.
A small entry fee will help support the city's dog park.
There's also a longboard "push race" -- coordinated by local board manufacturer LongBoardLarry -- that will run all the way from Independence to Rogue Farms micro hopyard in the Buena Vista area, and a revamped Hop & Heritage 5K to take place on the new Independence Running Trail.
Cronin said planners wanted to make certain that the message of heritage behind the event wasn't being forgotten. For example, booth fees were waived for nonprofit vendors -- so long as they decorated their tables with hop memorabilia and historic photos.
This year will also see a number of volunteers, from businesses and area schools, roving through crowds as "ambassadors" to provide information on different attractions.
"Hospitality is important," said Marie Trucco, a Hop Fest planner. "We expect people from out of town so this is a way to make an impression."
Most of this year's attractions are being operated as stand-alone and are being folded under the festival banner; that's resulted in more help with planning, said Morton, who's been the face of Hop & Heritage for years.
"I think the community has really taken ownership of the hop festival and I'm grateful to see it," Morton said.