Tuesday, September 25, 2012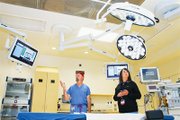 DALLAS - West Valley Hospital in Dallas has already booked its first surgery in its newly remodeled operating room.
But before the first patient undergoes a procedure, the hospital is inviting the public to see the new state-of-the-art OR.
West Valley will host an open house Saturday from 1 p.m. to 4 p.m. for the public to see the surgery facilities just completed this week. During the open house visitors will be able to meet the specialists who will be using the new operating rooms and take a tour of the remodel.
The new OR is the first of two that will soon be available to patients in Dallas. The second is scheduled for completion in February.
A $6.2 million remodel began in November 2011 and included a 1,400 square-foot expansion of the hospital's surgery suite, along with other improvements.
A year of planning went into the project, which included staff and patient feedback, said Melissa Davies, the hospital's business development project administrator.
The result was a substantial upgrade, both in technology and patient experience, in comparison to the hospital's former ORs.
"From a surgeon's perspective in a small outdated OR ... it was a step back in time," said Jennifer Broadus, the assistant nurse manager for surgical services.
"Our equipment was fine -- we were keeping that current -- but the space was small and we were crawling all over to make the most current surgeries happen," she said. "There is a lot of equipment, that when those ORs were built, they didn't even imagine would have to go into that space."
The new ORs will be twice the size and use adjustable booms attached to the ceiling to hold equipment and monitors. The booms offer more mobility for various types of surgeries and less need for plugging equipment into outlets.
The versatility means the hospital will be able to offer more surgical services without having to add more ORs, Broadus said.
The modern technology also offers more capabilities than the older facilities. The touch screen monitors show real-time images of procedures in progress and a built-in camera in one of the lights allows surgeons to take photos and send them to other specialists in Salem for analysis. Most systems in the new OR -- monitors, lights, and camera -- are controlled from a single workstation.
The remodel also redesigned patient waiting areas, pre-op and recovery rooms, keeping patient comfort and efficiency in mind. Davies said the hospital asked a former patient for feedback on where improvements were needed. She said that input was incorporated into the new layout.
A separate waiting room gives families privacy and updates via a patient monitoring system.
"They can watch their family member go through the process," Broadus said. "They'll know when they are in pre-op. They will know when they are in the OR and when they are in recovery."
Surgical staff members are eager to begin using the new OR and with the first surgery slated for Tuesday, they won't have to wait long.
"This is twice the room, twice the space," said surgical technician Gary Cline. "Our facility (in the other OR) is probably from the 1960s and 1970s. This equipment is about as modern as you can get in an operating room. After using the other one for 12 or 13 years, this is a big advance. Most of our equipment was sitting on carts that we would wheel out and then put back in storage. These are up and ready to go. You just touch the screen."
Come see West Valley's new operating room
What:
West Valley Hospital's surgical facilities open house:
When:
Saturday, Sept. 29, from 1 p.m. to 4 p.m.
Where:
525 SE Washington St., Dallas.