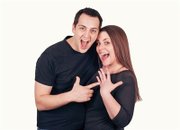 McCloskey-Flande
Katherine Michelle McCloskey of Dallas and Benjamin Hallauer Flande of Dallas are planning an August wedding.
The bride-to-be is the daughter of Charlene McCloskey of Forest Grove and the late Michael McCloskey. Her fiance is the son of Joseph and Vicki Flande of Dallas.
Katherine, a 2003 graduate of Forest Grove High School, received her Bachelor of Arts in fine arts and photography in 2007 from Oregon State University. She owns Katherine McCloskey Photography in Dallas.
Benjamin, a 2001 graduate of South Salem High School, received his Associate of Applied Science in automotive in 2007 from Chemeketa Community College in Salem. He is employed as a service manager for Home Comfort Inc. in Dallas.
The wedding is set for Saturday, Aug. 17, at the home of the groom's parents in Dallas.