Tuesday, February 5, 2013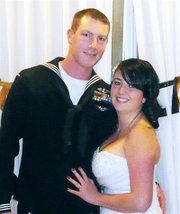 Biester-Wolfe
Brittany Leigh Biester of Monmouth and James Le-Roi Wolfe of Hillsboro were married Jan. 26 at the Las Vegas Hotel & Casino.
The bride is the daughter of Jeffrey and Sandra Biester of Monmouth. The groom is the son of Ross and Denise McBride of Hillsboro.
Maid of honor was Katelyn Derry. Bridesmaid was Amanda Hahn.
Best man was Christopher Hahn.
Brittany is a 2007 graduate of Central High School in Independence. She is employed as an activity leader for Social Advocates for Youth San Diego in San Diego, Calif.
James is a 2001 graduate of Hillsboro High School. He is a Petty Officer 1st Class with the United States Navy stationed in San Diego.
They make their home in San Diego.