Tuesday, February 12, 2013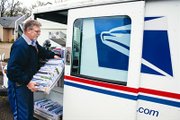 DALLAS -- The U.S. Postal Service announcement that Saturday home address mail delivery will end come August is sure to be the source of debate on the national stage in the coming months.
However, locally, it doesn't appear to be cause for much concern.
USPS made its announcement Feb. 6, saying Saturday mail delivery would end Aug. 3. Packages will continue to be delivered six days per week and post office box delivery won't be affected. At post offices open on Saturdays, service window hours would remain the same.
The move is estimated to save the cash-strapped agency $2 billion a year.
Locally, that means Monmouth and Independence's Saturday post office hours would be unaffected.
Customers using Dallas' post office -- which is closed on Saturdays -- would still be able to retrieve mail or packages on hold on Saturdays at the back service door from 5 a.m. to 5 p.m. as they can now.
Dallas Postmaster Tina Smith said there wouldn't be any other noticeable changes due to switching to five-day-a-week mail delivery.
"Really, we won't see much of a change," Smith said. "We are going to be running just like normal Monday through Friday and delivering packages on Saturday. Of course we will know more when we get into August and we are actually doing it."
The move will, however, impact Oregon's vote-by-mail process.
Polk County Clerk Val Unger said ballots have been mailed to voters 14 to 18 days before elections. Ballots are typically taken to the post office on Friday for processing and delivery on Saturday.
"Now that would be moved back so they can be delivered on Friday," Unger said.
She said she doesn't believe the change will be a problem for her office.
For businesses that operate Monday through Friday, the change may not affect them much either.
Susan Morrill, the manager of Citizens Bank in Dallas, said a large portion of customers use electronic bill pay and e-statements now.
"If this had been 20 years ago, I think it would have had a larger impact," she said.
Other local businesses called for comment, including a title company and real estate firm, said much the same thing.
Morrill said it may be a good idea for customers who do use mail to perhaps send off bills sooner, however.
Morrill said in her personal opinion the move to end Saturday mail may be a good choice.
"If this makes it so they end up breaking even again, I think it's a great idea," she said.
People stopping into the post office in Dallas on Monday morning agreed. Most people said they weren't concerned about Saturday letter delivery ending or were supportive if it meant saving the postal service money.
"It doesn't bother me that much if it will help keep taxes and the cost of postage down," said Dallas resident Stann Lyman, adding he thought letter carriers should have weekends off, but not so many Monday holidays. "I like Monday delivery."
Dallas resident Darla Schiopen said she keeps track of the amount of stamps she needs and as long as post office hours aren't being reduced, Saturday mail isn't a concern.
The only issue for some was having to change mailing habits to account for one less day of delivery. Lyman said he will likely drive to Salem to mail letters if he's concerned they won't reach their destination in time if mailed from Dallas.
Monmouth resident Gary Fettig said, despite a little inconvenience, he's supportive as long as the move saves money.
"I will have to adjust my mailing," he said. "It's not hard, you just have to plan for it."