Tuesday, February 19, 2013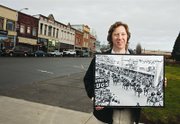 DALLAS -- The city of Dallas has brought in another partner in the effort to revitalize downtown: The Oregon Historic Preservation Office's "Oregon Main Street" program.
Enrollment in the program offers downtown building owners and businesses resources and incorporates a four-point approach -- organization, promotion, design and economic restructuring -- to improve historic city centers.
The long-term goal would be to establish a downtown association that would continue the work of preserving and promoting Dallas' core, said John Swanson, the city's economic development specialist who will oversee the program.
The city will begin at the program's introductory "Exploring Downtown" level, for cities at the beginning of redeveloping their downtown regions.
Jason Locke, the city's community development director, said the timing is right to take this step.
He said the city's Urban Renewal Agency has invested money in "Streetscape" projects to improve the appearance of downtown on Mill and Court streets. The biggest project yet in the 800 and 900 blocks of Main Street is slated to begin this summer. Those, coupled with more businesses moving in in recent years, has set the stage for more comprehensive efforts, Locke said.
"We felt that, as with a few other things, that it was an opportune time," Locke said. "Things are moving forward. We have projects scheduled in the downtown. While a project in itself all of the sudden can't create a vital downtown, it is a step in the process."
"Exploring Downtown" could also be a catalyst in the process, as the program can provide downtown businesses and building owners benefits -- such as historic building assessments, information about maintaining older buildings, and access to workshops, consultations and other resources.
Locke noted that the program isn't project-based and would not give the city access to grant funding for improvements. It's more about facilitating those with an interest in the downtown region in creating plans to improve the district.
"These folks can provide us, the businesses downtown, with some really valuable information and resources that we (the city) may not otherwise be able to provide," Locke said.
As the revitalization effort continues, the city can enroll in more involved levels of the project, Locke said.
The program uses a comprehensive approach of organizing a wide-range of local collaborators, coordinating events (festivals, regionwide sales and parades) that promote downtown, creating a welcoming environment through cleanup efforts and design, and developing a long term regional market analysis and business improvement and recruitment plan.
Dallas was accepted into the program on Feb. 13.