Tuesday, February 19, 2013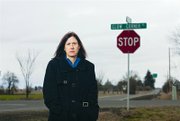 DALLAS -- The latest serious accident at the intersection of Clow Corner and Riddell roads near Dallas has spurred Polk County to examine changes to make the intersection safer.
On Jan. 22, 18-year-old Dallas resident Kenn Kinnaman was critically injured when the car he was driving on Clow Corner was struck by a northbound SUV that ran through the stop sign on Riddell Road.
Suffering from a traumatic brain injury, Kinnaman is recovering at Oregon Health & Science University Hospital in Portland.
This isn't the first time county officials have investigated ways of improving the intersection.
"It's always been a problem intersection," said Todd Whitaker, Polk County's public works director. "In 2011 we made a number of improvements there."
Those included purchasing additional right of way so the county could remove more vegetation and utility poles for better visibility, adding "rumble strips" -- or grooves in the road that cause vehicles to shake when driven over -- and bright signs with flags warning "Stop Ahead."
Whitaker said accidents have decreased since the safety devices were installed, with most accidents caused by drivers pulling out in front of vehicles by mistake after successfully coming to a stop. The accident rate at the intersection was between four and six per year between 2000 and 2011, with a noticeable decline in the last two years.
"That (the Jan. 22 accident) was the first `blow through' (running the stop sign) accident that we were aware of since those safety improvements were made," Whitaker said.
After the January crash, which occurred in extremely foggy conditions, county officials began taking another look to see what else can be done.
Kurt Holland/Itemizer-Observer
A possible safety feature could be a flashing red light mounted on top of the existing "STOP" sign.
Last week, the Polk County Board of Commissioners approved the possible installation of a third set of rumble strips on both sides of Riddell Road, a flashing yellow light on the "Stop Ahead" sign or a flashing red light on the "STOP" sign, and moving the stop bar to increase visibility.
Whitaker said the intersection is mostly used by people who drive it frequently, which poses a unique problem for making changes. People who use the road regularly may eventually stop noticing attention-getting measures, he said.
"There is not a whole lot available that addresses that particular issue," Whitaker said. "Those are the options that I see as being available. My concern is that the frequent drivers will become used to those."
That said, Whitaker noted the additional rumble strips will be placed before vehicles pass the "stop ahead" sign in hopes that will prompt drivers to slow down sooner. The flashing lights will be more visible at night and in foggy conditions.
The Board of Commissioners agreed more should be done.
"If we save one life, it's worth it," Commissioner Jennifer Wheeler said last week.
In terms of getting drivers' attention, Whitaker said he is leaning toward the flashing yellow light on the "stop ahead" sign instead of the red light on the stop sign itself.
"With the yellow flashing light, you are grabbing that attention a lot sooner, about 400 feet before the stop," Whitaker said.
He will continue his research, but Whitaker said the proposed options seem the most appropriate, given the nature of the intersection.
He said with Clow Corner and Riddell both frequently used -- Clow Corner has a daily average of about 3,500 trips per day -- and high-speed (55 mph speed limit) routes, there may always be accidents at that intersection.
The goal is to reduce them as much as possible.
"We will continue evaluating and looking at it," Whitaker said, adding he will investigate to see if there are any major drawbacks to the proposed measures.
"I really do feel we've improved it," Whitaker said. "But I don't believe our board is at a point that we say we can't improve upon it even more."