Tuesday, January 15, 2013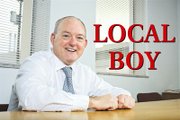 MONMOUTH -- Mike Ainsworth exhibits a few rituals during his public address announcing gigs for Central High School home football and basketball games. More than a few, actually.
The Polk County Commissioner and longtime "Voice of the Panthers" arrives about half an hour early just to get a feel for the crowd. He requests a copy of the visiting team's roster well in advance -- "I want to make sure I get the names right."
During halftime he takes a walk. At last week's basketball game against Yamhill-Carlton, Ainsworth roamed the upper level of Central's gym, greeting friends and shaking hands.
"Gotta talk to the voters," he said with a laugh.
Play resumes and after two lethargic quarters, Central finds its step. A Panther player is hammered as he drives hard to the hoop. Free throws follow -- along with another Ainsworth signature:
"Kelton Chapman at the line, shooting ... twoooooo."
--
Ainsworth's affinity for his alma mater doesn't appear to have wavered since he graduated almost 40 years ago -- or for that matter, his community.
Mike at the mic of a Central game.
He's volunteered for the Monmouth-Independence YMCA, and been vice president of The Gate Youth Association, which is affiliated with First Baptist Church. He's been a Central Youth Sports coach and a member of -- what else -- the Central High School Panther Club and is emcee for its auction fundraiser.
Maybe it's fitting that the county commissioner job that Ainsworth looks at as a "public relations job for the people of Polk County" is held by somebody many see as a quintessential hometown guy.
"I can't remember a time when he wasn't out there on the sidelines, being supportive," said Dale Cutsforth, athletic director of Talmadge Middle School, noting Ainsworth was a volunteer youth sports coach "when I was in eighth grade."
Ainsworth grew up in Independence and Monmouth and has lived in or near those cities for all of his life. His father was a sawyer at a plywood mill in Corvallis, and his mother a telephone operator.
"My mom and dad live in the same house I grew up in," he said. "My inlaws live in Independence, my son and daughter live out in the country, my nieces and nephews live in the county ... I have a vested interest in this place."
Ainsworth graduated from Central High School in 1973 and attended Oregon College of Education with a goal of becoming "a teacher and a coach," but wound up at a mill in Corvallis.
Mike Ainsworth loves the place he calls home.
During the 1990s, he worked at Willamette Industries/Weyerhaeuser in Dallas and eventually reached the level of production supervisor.
"Our production rates per man hour were way above any that Weyerhaeuser had at other mills," Ainsworth said proudly. "I remember a couple of months when it was Willamette that we produced 600,000 board feet per shift."
Those are years Ainsworth still talks about fondly -- which makes the subject of Weyerhaeuser's closure in March 2009 all the more painful.
"Some people who were there, the mill was all they knew ... and management said `this is it'," Ainsworth said. "It was sad then and it's still sad every time I drive by it."
A job search during the next several months proved fruitless, despite connections in the industry.
"That's very sobering," Ainsworth said. "We're at a point in society where they say there isn't age discrimination, but I believe that there is ... employers just say, `Oh, we can hire somebody who's 21.'"
Ainsworth enrolled at Western Oregon University in 2009 to finish his bachelor's degree. He also followed up on a longtime ambition -- and coaxing from those close to him -- when he decided to run for Polk County commissioner.
"I always considered him as somebody who could be a politician," Mike's wife, DeAnn, said. "Even since junior high, he was always out front, speaking at assemblies ... he's good at making people feel comfortable."
Still, the gravity of having no prior political experience, even at the local level, while vying for perhaps the most important elected government position in the county wasn't lost on him.
"Politics wasn't something I had paid much attention to (before)," Ainsworth said. "The most surprised person on election night (in November 2010) was probably me.
"It was a lot of work in the beginning."
Ainsworth said he feels he's reaching his stride as he enters the halfway mark of his first term and plans to run for commissioner again in 2014.
"I look forward to coming to work more than I ever have in my entire life," Ainsworth said. "I'm 57 ... I'm not sure a lot of people that age can say the same thing."
He still bleeds Central's red and black, but notes he's following Dallas and West Salem sports. He attended Dallas' sports booster club auction to see if he could learn anything new.
"I've always been a Monmouth-Independence guy and now I'm trying to get as involved as I can to represent the whole county," he said.
Meet Mike ...
Hometown:
Monmouth.
Family:
Wife, DeAnn; children, Jeremy and Jenna.
Heroes:
"My parents. They showed me a great work ethic and encouraged me that I could do anything as long as I set my mind to it. They told me hard work pays off. Take pride in who you are and what you do. They set the foundation and helped mold me into the person that I am today."
First job:
Strawberry picking for Cobine and Cobine Farms.
Favorite food:
Prime rib, tacos.
Favorite movie:
"The Godfather."
Favorite sports teams:
New York Yankees, Green Bay Packers and Oregon Ducks.
Proudest feats:
"I have a few. My marriage of 37 years, our two children, the Distinguished Service Award in 2006 from the Monmouth-Independence Chamber of Commerce and being elected Polk County Commissioner."
What would you rather watch? The Oregon Ducks in a bowl game or the Central High Panthers in a playoff game?
"That's easy, Central Panthers. All the way."