Wednesday, January 30, 2013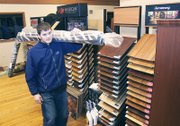 DALLAS -- After being vacant for a little more than a year, part of the former Cooley's Furniture location on Main Street has a new owner.
Renee McBride, owner of House of Floors in Dallas, bought the south side of the building -- about 9,000 square feet -- the week of Jan. 14.
She immediately began moving her warehouse to the site, located at 680 Main St. The business' showroom will follow and the new store should open by mid-February, McBride said.
House of Floors' showroom is currently located at 788 Main St., just down the street from its new home. However, McBride said the Cooley's site provides enough elbow room to solve a problem she's had since opening her flooring and carpeting business in Dallas seven years ago.
"The whole time I had a separate showroom and warehouse," she said. "Now they are combined."
McBride said she had long been on the lookout for a location where she could have a showroom and store stock. She finally found the answer when the former furniture store -- and its attached storeroom -- went on the market in 2012.
"I've had my eye on it (the building) for a long time," she said. "It seems like it was the only building in town, besides (the former) Ray's (Home and Garden), that was suitable."
Ray's closed in 2010 and the building is now home to a bookstore and bike shop.
McBride said now that her warehouse is moved, she will turn her attention to preparing the new showroom and updating the store's facade for the February opening. McBride's goal is to welcome customers to the new location by President's Day weekend (Feb. 16-17).
A Main Street fixture for decades, Cooley's Furniture occupied the site from 1961 until December 2011, when owners Loren and Gary Cooley decide to close the store. The brothers' father, Bruce Cooley, opened Cooley's in Dallas in 1945.
On The Move
What:
Dallas' House of Floors will be moving to the former Cooley's Furniture building, 680 Main St. in Dallas (current location until mid-February is 788 Main St.)
Contact:
503-623-9552.