Wednesday, January 30, 2013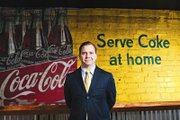 MONMOUTH -- There are two or three spots atop the building that Bodie Bemrose and Gary Miller have constructed at the corner of Main Street and Monmouth Avenue where a name for the structure could be displayed.
"We've been so busy trying to get the building done, we haven't named it," said Bemrose, co-owner of the Monmouth Holding Co. "I just figured something would come to me."
He doesn't have long. The 6,000-square-foot mixed-use building is nearly open for business.
Contractors laid carpet in the six second-floor studio apartments last week and put the finishing touches on fixtures; the complex received its certificate of occupancy on Friday.
The primary commercial space fronting Main Street, the future home of West Coast Pizza Co., is coming along. A just-installed and lacquered bar sat framed by the decades-old Coca-Cola mural on the adjoining building that was uncovered, then preserved, during construction.
Bemrose and Miller's building sits in the former location of the Real Taste of India restaurant, which was destroyed in a fire in mid-2011.
"I know a lot of people will ask why it took so long," Bemrose said. "Hopefully, the end result speaks for itself."
Bemrose, a commercial real estate broker, has done many building renovations, but has never built one of his own.
"It's a totally different animal, starting completely from scratch," he said.
The appearance of the facade and parts of the interior were based on early 20th century architecture. Though he primarily works in revitalizing old buildings, making a modern structure look anything but wasn't easy, he said.
New bricks used on the exterior were "tumbled" before they were shipped from Colorado to give them the irregular look of historic brickwork. The hallway of the second floor has an old skip trowel plaster finish.
Photo by Pete Strong
West Coast Pizza Co. hopes to open in the primary commercial space of the new building during February.
To preserve the mural, the building was re-engineered, with steel beams situated on either side and an enormous beam spanning the top to bear the upstairs.
"We had a roof inspector here from out of state and he thought we had just renovated a historic building," Bemrose said. "I guess we pulled it off."
The additional storefront space is sorely needed, said City Manager Scott McClure.
"We get phone calls from businesses and we tell them `we don't have a place to put you right now,'" McClure said. "That happens very frequently."
A ribbon cutting for the building could happen in the next week or two. The owners of West Coast Pizza Co. plan to open sometime in February, Bemrose said.
Bemrose said he's had strong interest from retailers in the remaining 1,500-square-foot storefront off Monmouth Avenue.
"We don't want to do what's been a problem in Monmouth before, with administrative offices taking the ground floors for retail and downtown going dark after 5 p.m.," he said. "We want to give people a reason to come downtown every night."