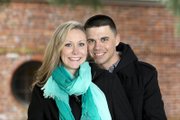 Gustafson-Hutchison
Nicole Gustafson of Salem and Tommy Hutchison of Fort Eustis, Va., are planning a September wedding.
The bride-to-be is the daughter of Alan and Nancy Gustafson of West Salem. Her fiance is the son of Bill and Trish Hutchison of Dallas.
Nicole, a 2006 graduate of West Salem High School, works for the state of Oregon.
Tommy, a 2007 graduate of Dallas High School, is a member of the U.S Army.
The wedding is set for Sunday, Sept. 8, at Green Villa Barn in Independence.