Wednesday, March 27, 2013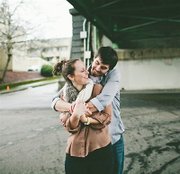 Parks-Hamilton
Megan Parks of Salem and Bret Hamilton of Wilsonville are planning a June wedding.
The bride-to-be is the daughter of Marvin and Patti Parks of Dallas. Her fiance is the son of Barry and Sue Hamilton of Medford.
Megan, a 2007 graduate of Dallas High School, is attending Portland State University, where she is scheduled to graduate this summer with a bachelor's degree in social science with an emphasis in early childhood. Megan works as a full-time nanny in Silverton.
Bret is a 2006 graduate of South Medford High School. He graduated in 2010 from George Fox University in Newberg with a Bachelor of Science in exercise science, and received his Master of Arts in Teaching in 2011 from George Fox. Bret works as a fitness coach at Mota Fitness in Tualatin.
The wedding is set for Friday, June 21, at Green Villa Barn in Independence.