Wednesday, August 20, 2014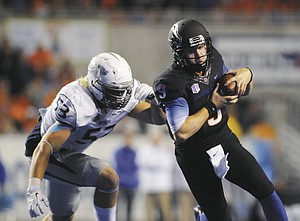 BOISE, Idaho — Grant Hedrick had been waiting for his moment.
Since arriving on campus at Boise State in 2010, the Independence resident and 2010 graduate of Central High School expected to compete to be the heir apparent to former Broncos' quarterback Kellen Moore.
On Oct. 19, 2013, against the University of Nevada, Hedrick got his shot.
"I didn't understand everything that happened to me until the game was over," Hedrick said. "It happened so fast. The first play happened and I'm in. I didn't have any time to think or worry, I just tried to do what I was taught and coached to do."

Hedrick led Boise State to a 34-17 victory, throwing for 150 yards and rushing for 115 yards and two touchdowns. He started five of the Broncos' last six games after starter Joe Southwick suffered an injury on the first play from scrimmage against the Wolf Pack and was later dismissed from the team.

This season, Hedrick isn't just looking to improve. He's looking to lead the Broncos back into the national rankings and to the top of the Mountain West Conference.

Growing pains 
Hedrick, the 2009 Oregon Class 4A state offensive player of the year in football, entered Boise State with high expectations.
It didn't take long for Hedrick to see the time and dedication needed for him to become a starter.
"It's hard to understand when you're young, but you have to work hard every single day," Hedrick said. "… I think as a young guy, you always wish you could get thrown into the fire when you first get here. But this level of competition, there's a much higher intensity. Everybody on this team, everybody who plays Division I, was a superstar wherever they came from."
After redshirting in 2010, Hedrick saw limited action in 2011 and 2012 — but he refused to get frustrated.
"You have to have that chip on your shoulder and understand it's not going to happen overnight," Hedrick said. "It took a long time for me to fully realize that, but I'm glad I finally did."
Now in a starting role, Hedrick turned his attention to becoming a vocal leader. To get help, Hedrick turned to a Bronco legend.
Becoming a leader  
Moore, the former BSU quarterback and now Detroit Lion, stands among the Broncos' most prolific players, throwing for 14,467 yards and 142 touchdowns. But it wasn't just his play on the field that Hedrick learned from.
"We have a similar personality," Hedrick said. "We keep to ourselves. He's a great quarterback and leader, so I asked him what he did."
The key: Learning to communicate long before the season starts.
"Basically, he told me to talk to everyone," Hedrick said. "He told me to take a main leadership role during player-run practices. When you're away from coaches, practice throwing routes. When you're in a game and the bullets are flying, you have to be on the same page. Everyone can be a vocal leader on game day. It's a matter of being on the same page with everyone that can make the difference."
Hedrick took that advice to heart.
"I think the main difference is I'm taking that leadership role," Hedrick said. "It's running player-run practices, organizing seven-on-seven drills, and being more of a vocal leader in those sessions and workouts. It's really (about) becoming a vocal leader."
After throwing for 1,825 yards and 16 touchdowns in 2013, Hedrick knows expectations will be high in 2014. But with an offseason spent working on timing and accuracy, his former high school coach, and father, Shane, said Grant is ready for a breakout senior season.
"I think the one area that Grant has grown the most in is his ability to read the defense," Shane Hedrick said.
Teammates are noticing a major change in Hedrick as well.
"I think he's going to have a great season," wide receiver Matt Miller told the Idaho Statesman. "He's definitely put the time in in the film room and on the field, working on his craft."
Great expectations
Boise State is in a season of transition. Bryan Harsin, who helped recruit Hedrick to Boise, has taken over the head coach position from Chris Petersen. Meanwhile, the Broncos are coming off their lowest win total — eight — since the 2001 season.
Just don't expect Harsin to lower his expectations during his first year at the helm.
"Grant has done really well," Harsin said during the Broncos' media day earlier this summer. "I liked him. I liked him when I recruited him. We fully expect Grant to come out and establish himself being the guy and playing to the level we need him to play at."
As Hedrick worked to become a vocal leader, it's his game experience that will be key to his success this year, Harsin believes.
"What he's done has helped him as a leader," Harsin said. "More importantly for him, he'll know how you prepare as a starter. … Until you are a starter, you don't really know how to prepare. He knows now because he's started some games."
The pressure may be high, but Hedrick, who was officially named the starter over the weekend, is used to this kind of attention, albeit on a smaller scale.

"The team camaraderie and the closeness of the relationships you build with your teammates is very similar to Central," Hedrick said. "I don't think that happens everywhere. Sports are a huge deal at Central High. It's similar here. It's an awesome feeling."
The 2014 season may be Hedrick's first as a full-time starter, but Hedrick and the Broncos know they have little time to earn wins and get the Broncos back on top.
"We have high expectations and we expect to do big things," Hedrick said. "We're starting to click a little bit.
"If we go out and do our job to the best of our ability and play as hard as we can, we can get the brand of Boise State football back to being physical and hard-nosed. If we do that, the success and wins will come with us."