Wednesday, August 20, 2014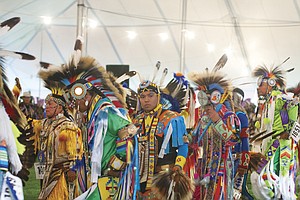 Thursday concert
will benefit YMCA
The classic rock sounds of Morgan will be featured at a concert to benefit the Monmouth-Independence YMCA scheduled Thursday.
The family friendly event at Rogue Farms Micro Hopyard, 3590 Wigrich Road, south of Independence, begins at 6 p.m. on Thursday.
Morgan is a four-piece group that plays original material and cover songs with a classic rock sound. Entry is a suggested donation of $5, with all proceeds benefiting Monmouth-Independence YMCA scholarships.
For more information: 503-838-4042.
Neighborhood sets
potluck gathering
All current and former residents of Pioneer Road and Reuben Boise Road are welcome to come meet and greet neighbors and friends at the group's 83rd annual loop picnic on Thursday.
The potluck event will be held beginning at 6 p.m. at the Siebert/Fredrickson Shelter in Dallas City Park.
Those planning to attend are asked to bring a main dish and a side dish or dessert.
For more information: Kris Golly, 503-623-8735; Christina Latham-Brown, 503-623-3923.
Friday blood drive
set in Monmouth
The Monmouth Public Library will host a citywide American Red Cross blood drive Friday from 11:30 a.m. to 4:30 p.m.
To schedule an appointment, contact the reference desk at the library or sign up online at www.redcrossblood.org using sponsor code "monmouthlibrary."
The library is at 168 Ecols St. S.
For more information: 503-838-1932.
Benefit for WVH
Foundation slated
West Valley Hospital Foundation's 15th annual Moonlight and Vines Gala is scheduled Friday at the Nesmith Readiness Center, located at 12830 Westview Drive in Dallas.
The event, which runs from 6 to 9:30 p.m., includes a gourmet dinner, dancing and a silent auction.
Tickets are $50 each and availability is limited. Proceeds from the event will be used to support scholarships for students pursuing health care careers, as well as for West Valley Hospital services such as the Connections Van that provides rides to and from the hospital for patients in need of transportation.
For more information: West Valley Hospital Foundation, 503-831-3456.
Pentacle Theatre
production to open
Pentacle Theatre will premier "You're a Good Man, Charlie Brown" Friday at the theater, located at 324 52nd Ave. NW in West Salem.
The musical, written by Clark Gesner and directed by Wendy Boyack, follows Charlie Brown and his gang of friends — Lucy, Schroeder, Snoopy, Linus and, of course, "the Little Red-Haired Girl" — as they confront school, baseball and comical misunderstandings.
The show runs Friday through Sept. 13, with evening performances at 7:30 p.m. and Sunday matinees at 2 p.m. Tickets are $23 for Wednesday, Thursday and Sunday evening performances and $24 for Friday and Saturday evening shows and Sunday matinees. The Sept. 2 show is a benefit for Children's Educational Theatre.
For tickets or more information: 503-485-4300; www.pentacletheatre.org.
Area church center
of Saturday activity
Dallas Evangelical Church and the Community Clothing Closet are hosting a back-to-school giveaway, free barbecue and battle of the bands competition Saturday beginning at 3 p.m.
The event will include free haircuts for students in grades K-12 from 3 to 6 p.m., a backpack giveaway for students in grades K-12 while supplies last (children must be present to receive a backpack) and a clothing giveaway. There will also be a free hamburger and hot dog barbecue while supplies last, and a battle of the bands starting at 3:30 p.m. and continuing through at least 7:30 p.m.
No proof of residence or income required. Donations can also be made at the event.
The church is located at 783 SW Church St. in downtown Dallas.
For more information: 503-751-1289.
Wine country bike,
dine event slated
Cyclists of all abilities are welcome to join Eola Hills winemaker Steve Anderson for the winery's inaugural "Bike and Dine with the Winemaker" event on Aug. 29 from 4 to 8 p.m.
Cyclists will depart from the Legacy Estate Vineyard, 1600 Oak Grove Road, between Independence and West Salem, on a 20-mile bike ride through wine country, stop at Eola Hills Wine Cellars in Rickreall to taste wines and choose what they'll have with dinner, and return to Legacy for an alder-planked salmon dinner. There will be an option for a longer ride for experienced cyclists.
Cost is $65, which includes a guided bike tour, tasting of wines at Eola Hills, and dinner and wine at Legacy Estate Vineyard.
To register or for more information: 503-623-2405; www.eolahillswinery.com.