Wednesday, August 27, 2014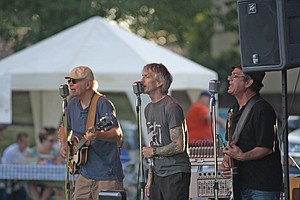 Wine country bike,
dine event slated
Cyclists of all abilities are welcome to join Eola Hills winemaker Steve Anderson for the winery's inaugural "Bike and Dine with the Winemaker" event on Friday from 4 to 8 p.m.
Cyclists will depart from the Legacy Estate Vineyard, 1600 Oak Grove Road, between Independence and West Salem, on a 20-mile bike ride through wine country, stop at Eola Hills Wine Cellars in Rickreall to taste wines and choose what they'll have with dinner, and return to Legacy for an alder-planked salmon dinner. There will be an option for a longer ride for experienced cyclists.
Cost is $65, which includes a guided bike tour, tasting of wines at Eola Hills, and dinner and wine at Legacy Estate Vineyard.
To register or for more information: 503-623-2405; www.eolahillswinery.com.
Three-day gospel
music event on tap
Labor Day weekend marks the 15th year for the annual Ramming Steer Gospel Music Roundup, taking place Friday through Sunday at TJ Farm near Dallas.
The event, which is open to the public, features live music Friday starting at 6:30 p.m., Saturday beginning at 5 p.m. and Sunday starting at 4 p.m. Admission is free, though donations are accepted, and all ages are welcome.
Food and drinks will be available, and potlucks will take place before the music Friday at 4 p.m., Saturday at 1 p.m. and Sunday at 1 p.m.
TJ Farm is located at 4870 Van Well Road, Dallas.
For more information: 503-623-4039 or 503-931-8951.
Annual Monmouth
yard sale Saturday
The Monmouth Business Association will sponsor its fourth annual community yard sale in Main Street Park on Saturday from 10 a.m. to 4 p.m.
Last year brought more than 30 sellers to the park. This year's event includes food and music.
There is no charge to sign up to be a seller in the park.
For more information: Terri Gregory, 503-330-6598.
Library is featuring
work of local artist
Dallas Public Library's Artist of the Month is Monmouth resident Janelle Graham. A selection of Graham's art will be on display at the library, 950 Main St., through September.
Graham's paintings, including watercolor and acrylic works, have been on display at various art fairs and the Oregon State Fair. Graham has also worked on Salem's Riverfront Park carousel.
While her art covers a wide range of subjects and themes, Graham especially loves going to a home or farm and creating pet portraits.
For more information: Dallas Public Library, 503-623-2633.