Wednesday, August 27, 2014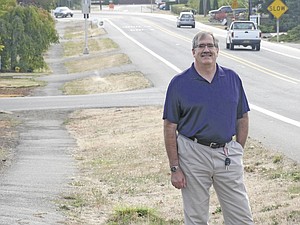 MONMOUTH — The final 1,600 feet of Highway 51 running through Independence and Monmouth will get sidewalks, curbs and landscaping.
Proper sidewalks and curbs will replace the asphalt trail now lining one side of the highway.
"Portions of (the asphalt trail) go at least a little bit underwater in inclement weather," Monmouth Mayor John Oberst said. "Of course I'm watching as elementary school kids walk along, protected by a white line."
The area will stretch from where the sidewalks end at the S-curves up the hill on Highway 51 to Heffley Street.
"This is the last little hole in quality sidewalks on at least one side of the road from the entrance (of) Independence all the way through downtown Monmouth," Oberst said. "This is a golden spike project."
The total estimated cost to build the sidewalks, bike lanes, curbs and planter strip is $1.4 million.
A grant from the Statewide Transportation Improvement Program will pay for $1.304 million of the project. The required 10.27 percent match, or $149,264, will be split 50-50 with the Oregon Department of Transportation and the city of Monmouth, coming out of transportation system development charges.
Oberst wrote the application for the approved grant.
"ODOT is realizing it's their road, and so they're picking up half of the match," Oberst said.
The project is intended first as a bicycle-pedestrian safety project, but will help traffic flow as well, he said.
"It's a major arterial," Oberst said of Highway 51. "The center left-turn lane will really help with people turning on and off the side streets."
Two lanes of travel with a two-way left-turn lane will be constructed, as well as bike lanes, a landscape buffer and sidewalks on both sides of the highway, according to documents from ODOT.
The project will still take a number of years, with an expected completion time sometime in 2016.