Wednesday, December 17, 2014
Dirks – English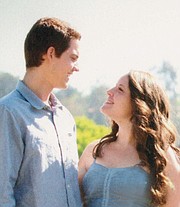 Stephanie Lynn Dirks and Luke Cary English are engaged to be married. The couple will wed on Dec. 27 at a service at Yorba Linda Community Center in Yorba Linda, Calif.
The bride-elect is the daughter of James and Denise Dirks of Yorba Linda. Stephanie is a 2008 graduate of El Dorado High School and received her Bachelor of Science degree in Human Biology in 2012 from Biola University in La Mirada, Calif. She will receive her Doctorate Degree in physical therapy from Loma Linda University in June 2015.
The groom-elect is the son of Vickie Elwood English of Orange, Calif., and Greg English of Rockaway, both formerly of Dallas. His grandparents are longtime Dallas residents, Cary and Jane Elwood and Gordon English Sr., and the late Ana English. Luke is a 2011 graduate of Villa Park High School in Orange and will receive his Bachelors of Arts in Psychology from Biola University on Dec. 19.
Following their honeymoon in Cabo San Lucas, Mexico, the couple will make their home in Murrieta, Calif.