Wednesday, December 24, 2014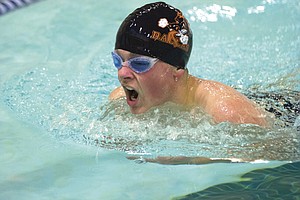 DALLAS — Before each race, Dallas junior Nate Ludwig has the same thought enter his head.
But it's not what you'd expect from a competitive racer.
"Every time I swim, I think that I have no chance at success whatsoever, since I've never considered myself athletic," Ludwig said.
Once a race begins, a new thought enters his mind that helps keep him focused.
"Whenever I get ready for a race against people who should be better than me, I think of my teammates," Ludwig said. "That thought makes me swim faster, to prove that I now have the upper hand, regardless of who I am racing."
After joining the swim team for the first time as a sophomore, Ludwig is expecting to place at districts this season.
That's a far cry from where he started.
Growing up, Ludwig wasn't your typical athlete.
"In middle school, the only sport I'd be allowed to do would involve food, like pie eating contests," Ludwig said with a laugh.
Ludwig learned how to swim at a young age, but the idea of swimming competitively wasn't appealing.
"I always expected I'd be swimming just to exercise since it uses a wide variety of muscles," Ludwig said. "I was against the idea of meets and racing."
That began to change when, as a freshman, he began swimming for the Blue Dolphins, a local youth swim team.
Dallas High coach Jeff Bemrose approached him, but Ludwig declined to join the team, wanting to gain more experience.
The following season, Bemrose again asked Ludwig to join. This time, he accepted.
As a sophomore, Ludwig showed signs of progress.
This season, Bemrose has high expectations for Ludwig, whether it be in the butterfly, breaststroke or as part of a relay team.
"Nate is an all-around swimmer and can swim every stroke," Bemrose said. "He's on the verge of breaking out and starting to be a top swimmer."
While he'll be swimming a variety of different strokes individually and on relay teams, Ludwig is ready to take people by surprise.
"This season, I expect to be noticed and to receive a ribbon from districts," Ludwig said.
That thinking shows just how far Ludwig has evolved as he hopes to show just how much he's learned.
"I've learned that if given time, anyone can find somewhere they can rise above the rest," Ludwig said.