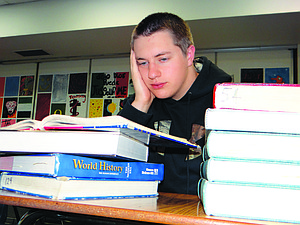 POLK COUNTY — A new test, based on Common Core State Standards, will be used to determine whether or not students in grades three through eight, as well as those in grade 11, meet state standards.
"Some folks see the standards as a means to a national curriculum and a national test, and they worry about local control," said Ben Gorman, Central High School teacher and president of the Central Education Association. "Others worry about our kids being tested more than they are taught."
The test — Smarter Balanced Assessments — is harder than the old Oregon Assessment of Knowledge and Skills (OAKS). High school seniors in the Class of 2016 will be asked to pass this harder test as one way of determining whether or not they can graduate.
Cory Bradshaw, Dallas School District's assistant superintendent, said school officials have considerable anxiety about implementing the Smarter Balanced test, partially because it is new and substantially different in format than OAKS.
For example, the new test requires students as young as third-graders to type answers instead of selecting in a multiple choice format.
"We don't teach third-graders to type," she said. "It's an unknown at this point, we don't know how much time it is going to take them."
Smarter Balanced costs a little more than OAKS, said Crystal Greene, communications director at the Oregon Department of Education, because the writing component needs to be scored by humans, whereas OAKS — a strictly multiple choice test — could be scored by computer.
"Smarter Balanced is an adaptive (test)," Greene said. "If I get a question right, I'll get a slightly harder question. If I get it wrong, I'll get a slightly easier question."
Because of the increased intensity of the new test, administrators and officials do not expect great success when it comes to scores this year.
"Common Core is more rigorous than previous standards and the kids have never been tested on them," Bradshaw said. "We expect … that Oregon will not perform as well on the (Smarter Balanced test) as they did on the OAKS — not because the kids got dumber, but because it is a different test."
Oregon Deputy Superintendent Rob Saxton agrees, and notes the state is expecting only 30 to 40 percent of students to meet the new standards during the first year.
"It simply means we will have a more accurate and honest picture of how prepared they are for their futures," Saxton said. "I believe over time, and given appropriate supports, our students will rise to the challenge and will meet this higher bar."
Meanwhile, the scores students need to earn to "meet standards" still need to be defined.
Last school year, 25,000 students participated in a field test of the Smarter Balanced Assessment. Central School District superintendent Buzz Brazeau said psychometricians will use that data and compare what those students got on the OAKS test to determine a comparable score.
"Kids who scored 236 on OAKS scored 120 on Smarter Balanced," he said as an example. "That will be one of the tools they are using."
Part of the new Common Core
The Smarter Balanced Assessment is being introduced as part of the Common Core State Standards, adopted by 43 states and Puerto Rico. The test will allow Oregon to compare its student results to other states that have adopted Common Core, and that use the same test.
Common Core answers the first critical question in education: "What do students need to know and be able to do?"
From the mid-1990s until 2010, the Oregon Department of Education decided the answer with state standards. In 2010, that all changed, as Oregon adopted Common Core.
Common Core was developed to create uniform and higher standards for student achievement in English language arts and math.
"There has been a pretty general acknowledgement over the past several years that when we send our kids off to college — we being American education generally, not we Oregon specifically — colleges are finding out that our kids are not as well-prepared as they ought to be to do the kinds of work that colleges expect them to do," Bradshaw said. "Common Core is really a response to that as much as anything else."
Equally important was developing common standards state to state on what students should be learning and when.
"I used to be frustrated when I would look at the state's OAKS results," Bradshaw said. "I could tell how well kids in Dallas performed in general compared to other kids in the state, but I had no idea how they compared to kids in Washington or California. And yet they are all competing for the same set of stuff. They all want to go to the same college, they all want to get the same jobs in the end.
"If there is any correlation at all between good academic preparation and those things, then it seems like it's a good idea we have some way of … at least (measuring) on the same scale," she added.
Central's Brazeau has some first-hand experience with the differing state standards.
He started school in Michigan, transferring to Washington schools in sixth grade.
"By the end of sixth grade, I had hardly done any grammar," Brazeau recalled. "In Washington, they had already covered it."
Because Michigan schools taught grammar later in a student's career and Washington earlier, Brazeau said he never really got an elementary grammar unit, or lesson.
With Common Core, that would not have been the case.
Gorman agrees with the idea that students in Portland, Ore., and Portland, Maine, should be learning the same math concepts.
"The standards are mostly amalgamations of standards developed in different states, but the companies (that make tests hired to make the standards) didn't do themselves any favors by creating them without the input of practicing teachers," Gorman said.
Development
Common Core was developed jointly by the National Governors Association Center for Best Practices and the Council of Chief State School Officers, including teachers, college educators, text book publishers, and other education experts. Not a federal mandate, the effort to create the standards was essentially state-led, but with federal incentives to implement them, Bradshaw said.
The new standards are more in-depth, Greene pf ODE said, with more emphasis on problem solving and critical thinking.
"It's a shift from rote memorization to really thinking critically and analyzing," she said.
"They (the new standards) force us to take things deeper," Bradshaw said. "The biggest complaint about most standards to this point was that they were a mile wide and an inch deep. They cover huge amounts of material, but nothing to any depth."
They also require students to learn more at a younger age. For example, Common Core asks kindergarteners to write in complete punctuated sentences, instead of simply learning the alphabet and spelling simple words.
But that is also presenting a new problem.
"Moving the standards higher by lowering the grade, next year's 11th-graders are going to be taking a test, and they only had a couple of years at those standards," Brazeau said. "There's not sufficient time between the introduction of a standard and the requirement to take the test of that standard.
"I don't mind you dropping the 11th-grade math to ninth grade, but give me a few years to learn it," he added.
How does it affect teacher evaluations?
Another concern among administrators and teachers is how Smarter Balanced results will affect teacher evaluations. This year is the first state test results will affect teacher evaluations.
But it shouldn't affect teacher pay or personnel decisions in general, Greene said.
Student learning growth is designed to take 20 percent of a teacher's evaluation score, and how those scores are used is decided at a district level, she added.
Regardless, teachers feel a real pressure from "corporate and government forces that know nothing about education and are obsessed with 'accountability,'" Gorman said, calling the word "the big new buzzword beloved by people who don't care about what is best for kids but love to bash teachers."
Even though the curriculum to teach the state standards has not adjusted, and the tests aren't up and running, people are trying to tie teachers' continued employment to Common Core, Gorman added.
"Parents should look into this and think very carefully about whether these tests, designed to measure — and punish — schools and teachers rather than help students, are really something they want their kids to do," Gorman said.
If test results are used to determine personnel or pay decisions, that's a local decision, Greene said.
Through it all, administrators at both the local and state levels are focused on the kids.
"Eventually, if we can get everybody settled in with standards, what's important to me is are kids growing?" Brazeau said. "Are they improving?"
The goal is to make sure kids are prepared for their future, whether they choose college or a career after high school, Greene said.
In Dallas, Bradshaw is determined to not let the new test stand in anyone's way of graduation.
Bradshaw said in the long run — despite the anxiety over the new test and substantial effort needed separating fact from fiction regarding Common Core — the state and students will be better off.
"I think raising academic standards is not a bad thing," she said. "I think doing a better job preparing our kids academically is not a bad thing. I think expecting and understanding that they can do what we expect them to do, that will be better for our kids."
Next week in the Itemizer-Observer: Part 2 of our story looks at Common Core curriculum.