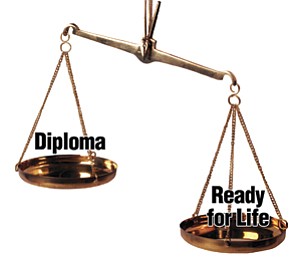 POLK COUNTY — The exact numbers are still not in, but one thing is certain: two scores will be used to evaluate students on the new Smarter Balanced Assessment.
"There's going to be two different levels that we're looking at," said Crystal Greene, communications director at the Oregon Department of Education.
The two different thresholds — the passing benchmark versus the college and career ready score — are because Oregon law stipulates a student must know what is expected of him or her to graduate by the time he or she enters the eighth grade, Greene said.
Until 2019, students will only be asked to meet a score on the Smarter Balanced test equivalent to current Oregon Assessment of Knowledge and Skills standards. That score — and how it will be translated from the OAKS to Smarter Balanced — is yet to be determined.
"Let's be realistic," said Buzz Brazeau, Central School District superintendent. "There's going to be a score here, and another score that's rated higher, so it won't be impacting the graduation of our students but will be reflecting the gap of where we are as a state and the perception of where we want to be.
"That's going to be a tough one for everyone to explain."
Introducing the new test and the unknowns surrounding what the difference between what a "meeting" score will be and the "college and career ready" score has educators at a loss as to what to expect.
Falls City Superintendent Jack Thompson said he's concerned first of all about the anticipated drop in pass rates because of the new test and how that will appear to parents.

"That's going to look really bad," he said. "I'm really worried about that."
Thompson said he's also concerned about how students will react to two separate scores — especially those who "meet" the temporary graduation standard, but not the higher "career and college ready" standard.
"Are we going to discourage kids from pursuing higher education because of that?" he asked.
Thompson said Falls City will provide ample opportunity for students to demonstrate proficiency through work samples rather than solely relying on scores from a new test in a new format.
"We've got to make sure we do our due diligence as a district, making sure we are keeping track," he said. "Kids have to find a way to graduate."
Sophomores and juniors at Central High also have been given work sample assessments to try and ease the anxiety of the new test, Brazeau said.
Dallas School District put a similar program in place in 2013-14 to help students meet their essential skills requirements. Assistant Superintendent Cory Bradshaw said sophomores have taken the OAKS test, and those who earned "meeting" scores will still have to take the Smarter Balanced test as juniors, but will already have met graduation requirements.
Thompson said he is interested in seeing what the first year of Smarter Balanced testing reveals.
"Until you sit your kids down in front of the computer and have them take it, you don't know," he said.