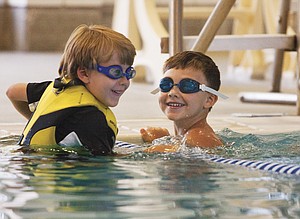 DALLAS — The ninth annual Summerfest Kids' Triathlon doesn't emphasize competition. There's little focus on how long it takes to finish. That's because race organizer Tom Snyder said the kids' triathlon is more than just a race. It's a celebration of kids.
"I hope they feel a sense of accomplishment after they finish," Snyder said. "This event can help build their confidence, which is always important."
The triathlon, scheduled to begin Friday at 10 a.m., features swimming, biking and running distances tailored to a variety of age groups.
The race begins with the swimming leg inside the Dallas Aquatic Center, followed by a bike ride around Roger Jordan Community Park, and ending with a run through the park's grassy area, making this an ideal event for parents to watch their children take part in each leg of the triathlon.
"It makes it easy for families to watch, and it's always nice in case the kids have an accident or the chain breaks on their bike for their parents to run over and take care of it quickly," Snyder said.
"My biggest piece of advice is don't underestimate the swimming," Snyder added. "It's easy to go out too fast."
Snyder said he will be pleased if the event reaches 50 participants this year.
Each child receives a medal for finishing, helping re-enforce the notion that it's not about what place you come in, it's about having fun.
"I just hope we have a good turnout, that the weather cooperates with us and everyone has a lot of fun," Snyder said.