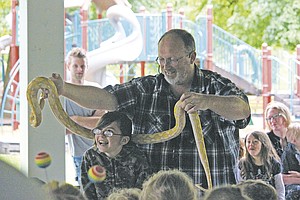 Hospital volunteers
to hold fundraiser
West Valley Hospital Volunteer Services will hold a "$6 Sale" Wednesday (today) and Thursday in the conference room of the hospital, 525 SE Washington St., Dallas.
The sale takes place Wednesday from 8 a.m. to 5 p.m. and Thursday from 8 a.m. to 3 p.m.
Fashion and seasonal accessories, jewelry, gadgets, gifts and much more will be offered. Proceeds from the sale go toward the West Valley Hospital Volunteer Services Scholarship Fund.
For more information: 503-623-7323.
Bike MS slated for
visit to Monmouth
The 30th annual 2014 Bike MS Willamette Valley, a fundraiser for the National Multiple Sclerosis Society, is calling Western Oregon University in Monmouth home for this year's event, which starts Friday.
The Bike MS Willamette Valley ride kicks off Friday at WOU with a 1980s-themed welcome reception. On Saturday, riders of all levels loop anywhere from 33 to 100 miles, enjoy a barbecue, a beer garden, live entertainment and a 1980s movie night under the stars. Event participants roll to a close on Sunday with a 35- or 50-mile ride and lunch.
Anyone 12 or older is welcome to participate, and full ride support is available on bike routes.

The annual ride is one of the largest fundraisers for the National MS Society, Oregon Chapter. Cyclists pay a registration fee of $75 to $95 and commit to raising at least $250.
To register for the event or for more information: www.bikeMSoregon.com
Monthly breakfast
fundraiser on tap
Monmouth Senior Center will host its monthly all-you-can-eat community breakfast fundraiser on Saturday from 8:30 to 10:30 a.m.
Cost is a suggested donation of $6 per person, $3 for children under 12. The meal includes pancakes, sausage, scrambled eggs, biscuits and gravy, and orange juice and coffee.
Proceeds benefit the Monmouth Senior Center building expansion fund. The center is located at 180 S. Warren St.
For more information: 503-838-5678.
Church schedules
block party event
First Baptist Church of Dallas will host its annual block party celebration Saturday from 10 a.m. to 3 p.m.
The event will include free food, fellowship and games.
The church is located at 245 SW Church St., Dallas.
For more information: Gladys Nelson, 503-623-5189.
Benefit dog wash
to be held in Dallas
Polk Veterinary Clinic will host its annual benefit dog wash Saturday from 1 to 4 p.m.
The event takes place at the clinic, 1590 E. Ellendale Ave., Dallas, and is on a donation basis. Proceeds help support the ongoing Dallas Police Department dog shelter improvements and Salem Friends of Felines.
For more information: 503-623-8318; www.polkvetclinic.com.
Pioneer celebration
slated for Saturday
A "Pioneer Day Celebration" hosted by The Church of Jesus Christ of Latter-day Saints will be held Saturday from 5 to 8 p.m. at Dallas City Park near the Japanese Garden area.
All families are welcome to come join the fun and bring either cornbread, baked beans or a salad to share. Pulled pork sandwiches, beverages and dessert will be provided.
Music, activities and games will be a part of the festivities. Family history consultants will be available to help folks on the trail to finding their ancestors.
For more information: Nona Springer, 503-917-9822; email to newsfromor@hotmail.com.
Jazz concert kicks
off music workshop
A free jazz concert that will kick off the annual Mel Brown Summer Jazz Workshop at Western Oregon University takes place Sunday beginning at 5:30 p.m. at Main Street Park in Monmouth.
Sponsored by WOU and the city of Monmouth, the concert will feature performances by Mel Brown and Friends with special guests Pete and Linda Christlieb.
Food and a beer and wine garden sponsored by Main Street Pub will be available onsite.
The Mel Brown Summer Jazz Workshop is scheduled Aug. 3-9 on the WOU campus.
For more information on the Sunday concert: 503-751-0147.
Gospel bluegrass
group to perform
The Bethel Mountain Band will perform a concert Sunday at 6 p.m. at Dallas Evangelical Bible Church, 1175 Howe St.
The group performs gospel bluegrass music. The concert is free and everyone is welcome.
For more information: Tyler Ferguson, 503-881-3997; email to tylerferguson@corban.edu.
VBS for youths set
to start on Monday
Evangelical Bible Church of Dallas is hosting its Vacation Bible School, "Shine," beginning Monday.
The program is for youths entering kindergarten through sixth grade. It will run daily from 8:30 to 11:30 a.m. through Aug. 8 at the church, 1175 SE Howe St.
There is no cost and registration forms are available online at www.ebcdallas.org.
For more information: 503-623-2331.
Vision exams to be
offered at library
Dallas Public Library, 950 Main St., will host a "See to Read" event in the Children's Room at the library on Aug. 7 from 11 a.m. to 1 p.m.
Trained screeners from the Oregon Elks and Oregon Lions will be administering free vision screenings to children ages 3 to 7 years old. No registration is required.
See to Read is dedicated to the sight and the success of Oregon's children. The Elks Children's Eye Clinic at Oregon Health & Science University's Casey Eye Institute is joining with the Oregon State Elks, Oregon Library Association and the Oregon Lions to detect vision problems in 3- to 7-year-olds.
At least 15 percent of all preschoolers have an undetected vision problem that needs to be treated with glasses, which is why Oregon's legislators have mandated a new law that requires all children entering kindergarten to show proof of a vision screening.
For more information: www.seetoread.net; 503-623-2633.
Golf tourney will
help out food bank
Registration is being accepted for the Dave McGuffey Memorial Golf Tournament, a benefit for the Dallas Food Bank.
The event takes place Aug. 9 at 9 a.m. at Dallas Golf Club, 11875 Orrs Corner Road.
The tournament is a four-person scramble. Cost is $60 per player, which includes 18 holes of golf, a barbecue lunch, team photo, and prizes for longest putt, longest drive and closest to the hole.
Sponsorships and donations of prizes are also being accepted.
For more information: Eddie Nelson, 503-857-5042; Red Carroll, 503-551-3021.