Wednesday, November 5, 2014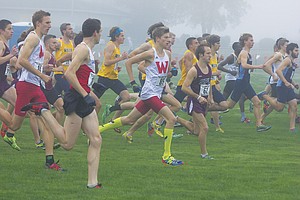 MONMOUTH — When Western Oregon freshman David Ribich began running in seventh grade, he wasn't dreaming big. He was just looking to find a sport that he liked.

But after meeting one of the sport's biggest athletes, his love turned into something more.
"I went to the 2012 Olympic Trials and watched Galen Rupp compete," Ribich said. "I got his autograph and talked to him for a bit. I saw him at another race and he spoke. I love hearing him talk. He's a born-and-raised Oregon guy and he's an inspiration."
Ribich's love of running was elevated to a new level, culminating in him winning the OSAA Class 3A-2A-1A state championship in 2013. But the Enterprise native arrived at WOU unsure of what awaited him.
"At my high school, I was the fastest guy by about three or four minutes," Ribich said. "Everyone is fast in college."
It hasn't taken Ribich long to adjust. He was the Wolves' top male placer at the Great Northwest Athletic Conference Championships on Saturday, finishing 26th in the 8-kilometer race, in a time of 25 minutes, 57 seconds.

"The leaders went out really fast and I think that caught most of us off guard," Ribich said.
Teammate Zach Holloway was 27th in 26:02 as the men's team took eighth in the team standings.
But as the Wolves prepare for the NCAA Division II West Regional on Nov. 22, Ribich is just taking the new experiences in stride.
"I've loved racing since the seventh grade and it just feels good coming from a small town to race at the Division II level," Ribich said.
Women's team
Junior Stephanie Stuckey wasn't a believer.
Although Stuckey was one of Washington's Woodrow Wilson High School's top cross-country runners, she never felt she belonged.
"I was good for my school, but I wasn't college material," Stuckey said. "I shouldn't be here based on my times in high school."
That all changed this fall.
"Running my races, looking at where people were finishing and looking at my workouts, I started to say 'hey, I should be able to match up with these runners, and I started to believe I could do it," Stuckey said.
"I started to believe that coach (Mark Johnson) saw something in me and has me on this team for a reason."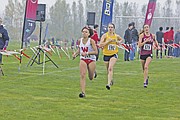 That belief paid off, as Stuckey placed 21st at the GNAC Championships. Stuckey's time of 21:48 in the 6-kilometer course was the team's best.
"It is such a blessing," Stuckey said. "I'm so thankful."
Teammate Rachel Crawford took 26th in 21:56 to finish second for the Wolves as Western Oregon placed seventh in the team standings.
But despite the success, Johnson is looking for more at the West Regional.
"Both David Ribich and Stephanie Stuckey have been exceptional," Johnson said. "But they, as well as the rest of the team, will need to have superior races at our regional in order to reach our top 10 regional goal and put themselves or the team in position for advancement."
That goal may seem high. But it's one that the Wolves believe they are ready to tackle.
"We can't lose sight of what is possible," Stuckey said. "We want to see how far we can go and do our best. We just need to keep going, not only for each other, but for coach and for the sport in general."