Wednesday, November 5, 2014
Richardson-Moynahan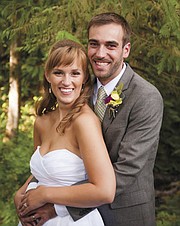 Clara Richardson of Lake Oswego and Patrick Moynahan of Lake Oswego were married July 27 at Horning's Hideout in North Plains.
The Rev. James P. Burnett officiated the ceremony.
The bride is the daughter of Steve Richardson and Katie Cooper Richardson of Dallas. The groom is the son of Kevin and Jane Moynahan of Dallas and Doug Marshall and Karen Moynahan of Dallas.
Maid of honor was Libby Nousen. Bridesmaids were Emilie Vassar, Alyssa Jacobs, Tali Robbins and Darcy Moynahan.
Best man was Joe Mielenhausen. Groomsmen were Tim McCammon, Jeremiah Mulder, Kyson Montague and Matt McCammon.
Clara is a 2008 graduate of Dallas High School. She graduated in 2012 from the University of Oregon with a Bachelor of Arts in history and in 2014 from Lewis & Clark College in Portland with a Master of Arts in teaching. Clara is a middle school social studies teacher in Wilsonville.
Patrick, a 2008 graduate of Dallas High School, graduated in 2012 from Boston University in Boston with a Bachelor of Arts in international relations. He is a business products specialist with Sentry Insurance in Portland.
The couple honeymooned in Kauai, Hawaii. They make their home in Sherwood.